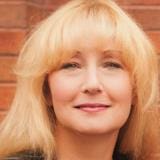 Tell us about yourself and how many books you have written.
As my co-author puts it "I am the foremost researcher and historical guru for our trilogy "What She Knew." "Fateful Night" is book one and was released May of 2013. She and I have finished book two, "Darkest Day," and are currently working on book three. You can learn more about them at our website www.kandtproductions.com.
I am originally from California (desert region, with mountains), spent nearly 20 years in the panhandle of Texas (again, desert region only without the mountains), moved to Atlanta, GA (trees and flowers everywhere) and have recently moved back to the desert. I miss living in the post card of Atlanta, but I don't miss the humidity.
I've been married for 32 years! Woo Hoo! And, to the same man!! That's an accomplishment, and not because of our present times. If you knew my hubby, then you'd know why. LOL! No, all joking aside, he's a great guy and my biggest supporter! He always believes in my writing, even if I doubt at times.
We have two grown sons; both of them are perfect in every way, except for the parts that take after their dad, lol!! One serves our country in the Army, is married to a beautiful woman and has three beautiful children. Our other son is in College. He has one degree in Modern Languages and is pursuing his Engineering degree. Needless to say, we are so very proud of the wonderful young men our sons have turned out to be. We also have one pupple (puppy/people) living at home with us, Digby. Now, he really is perfect in every way!
What is the name of your latest book and what inspired it?
My latest book is Darkest Day. It is book two in the What She Knew Trilogy. I was really roped into writing this with my co-author, KR Hughes. I do most of the research and she does most of the writing. We make a great team, I do have to admit that. We came up with the premise for the trilogy over dinner one evening out. Because of an advanced writing class she was taking for published authors, she was given an assignment to write about something that had never been writen about. We naturally went to "what if" questions and I thought of Marilyn Monroe and her supposed suicide. I came up with "What if she had lived, and what she knew saved JFK from assassination?"
She loved the idea and she asked me to help her with the research and plot line. I thought how fun!! After we had written what is now chapter two of book one, she presented it to her instructor. Her words were, and I quote "if you don't make this into a novel, you are an idiot! It has best seller written all over it."
Well, needless to say, we didn't argue with her. We set about writing. Now, with two of the three books published, we couldn't be happier that we did.
Do you have any unusual writing habits?
No, I don't think I do. I do prefer doing my research and writing in public places though. It helps to have some background noise and no dogs wanting out or husbands around asking questions.
What authors, or books have influenced you?
Agathat Christie is my all time favorite author. I have loved all her books, even those that she penned under another name. I also enjoy Dan Brown and have been likened to him in my writing style.
What are you working on now?
I am working on book three of the What She Knew Trilogy. I am really excited to be working on this book. After writing book one, Fateful Night, book two, Darkest Day, came together much faster and just seemed to flow. Now, working on book three, I have high hopes that it too will come together easily.
What is your best method or website when it comes to promoting your books?
I have several websites that I love for promoting my work. Awesomegang.com is, of course, one of the top ones. Ereadernewstoday.com is also a great way to get the word out about your books.
Do you have any advice for new authors?
Just keep writing! It doesn't matter what you write, just write. You cannot perfect your craft if you don't practice. Then, have as many beta readers as possible review your work! It will really pay off in the long run.
What is the best advice you have ever heard?
To be generous and share what I have learned with other authors. Also, to promote others as if their work was my own. You can never be too generous!
What are you reading now?
I'm reading only research material for our third book. Just not enough hours in the day to read for pleasure too.
What's next for you as a writer?
After we are done with the third book of the trilogy, we plan on writing a series of books that involve our main character from the trilogy. It should be fun!!
What is your favorite book of all time?
From my childhood, it is all of C.L. Lewis books! As an adult, I would have to say any of the Agatha Christie books are great, but my favorite one is "Murder on the Orient Express."
Author Websites and Profiles
Tamy Burns Website
Tamy Burns Amazon Profile
Tamy Burns's Social Media Links
Goodreads Profile
Facebook Profile
Twitter Account
Pinterest Account