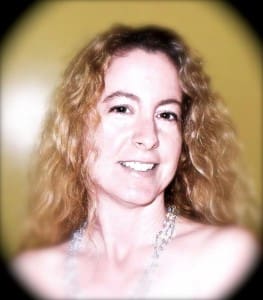 Tell us about yourself and how many books you have written.
Now this is an interesting question! LOL I've written many books — MANY! I would say among novels, novellas and children's picture books I've written a dozen or so at least. I think what you want to know is how many I've had published, though. If that's the case, then three picture books for children with Radiant Hen Publishing (www.RadiantHen.com). Those three are "Life is a Bowl of Cherry Pits", "Fairy Feast" and "Ninny Nu's Organic Farm". I also published a how-to book on setting up and implementing reading dog programs in schools — "Can Dogs Read?" That one was with Cairn Terrier Publishing (no longer in business), but Radiant Hen carries it now.
Almost all of my writing, be it for magazines, literary anthologies or if it's a book for children or adults, has to do with human interaction with nature and encouraging thoughtful living within our environment. It just so happens that I think these messages should be fun as well as hopefully thought-provoking.
What is the name of your latest book and what inspired it?
The latest book I finished writing (are they ever really finished? LOL) is a novel called "The Starling God". I'm shopping it around right now and hoping it finds a home, since everything in the book is near and dear to my heart. You could call it my "life's work". If I died soon, I'd be happy knowing people were reading the words and thinking about them, and that perhaps not only would they enjoy the story, but they'd make a beneficial change in the way they think and act towards other living things on this planet.
The book is told from the perspective of birds, so it has a bit of "Watership Down" flavor in that regard. However a big difference is that in "The Starling God", birds are observing humans from that very unique perspective and trying to make sense of our behaviors — how we control everything (or try to) and love certain species and then shoot or poison others. It was an amazing process to write this story, because I really researched bird behaviors and tried to think about our own ways of living and behaving from their almost alien perspective. It was transforming.
The crux of the tale is that a starling is raised by a wildlife rehabilitator from so young, he thinks of her as "Mother". When she releases him as a fledgling, the other birds, who identify humans falsely as gods, believe he is the fulfillment of a long-held prophecy that will bring Bird and Gods together at last. The young Starling God learns what it is to be 'bird' as he also learns the horror and the beauty of these "gods" called Humans.
Do you have any unusual writing habits?
The possibly unusual thing is that there IS no habit. Every book comes to me in a different way. I picked and picked at the words for Ninny Nu's Organic Farm, but Fairy Feast poured out of me almost as it was. I wrote "The Starling God" over the course of five years in spurts — 60 pages pouring out here, then I was hopelessly stuck, then off again with another 40, etc. I knew the concept I wanted to get across and some basics about the characters, but I had no idea how it would unfold. The story came along as I wrote. Sometimes I'd get wild unbidden inspirations for scenes in the shower and would have to stop everything to go write them down. Other times I had to tweeze them out more mechanically. That story took ME for the ride!
However, I was driving down the road the other day listening to a bit of music by Michael Nyman and suddenly found my head flooded with an idea for a novel. There were specifics that rolled in one after another — an ENTIRE NOVEL STRUCTURE complete with details of action, characters, you name it. By the time I got home I was practically twitching with urgency to get it all down, so I sat down (only after letting my little dog outside to pee) and feverishly wrote down all the ideas for almost two hours straight. I have the entire framework of the novel there already, and only have to fill in the blanks. There won't be as much "where is this going?" with this project, clearly.
What authors, or books have influenced you?
I passionately loved C.S. Lewis and the Narnia series and Anne McCaffrey's Dragonriders of Pern series. Both taught me a lot about building a culture through the sensual experiences the characters have — colors, sounds, textures, smells and especially FOODS and tastes. They also showed me that non human characters can be just as compelling and important as humans characters wether the book is for children or for adults. I STILL love the Narnia books and reread them often (especially when I'm home sick). I know many adults who do love them. Therefore there must be sometime special in that writing style and in the topic.
What are you working on now?
I just finished "The Starling God" and will begin work on my next novel soon. However, I am ghost writing a non-fiction book right now with a man who suffered a severe traumatic brain injury and recovered beyond any of the doctors' expectations. He did so thanks to specific conditions AND actions on his part over the years, and he outlines these in his story, "Surviving Well". This project is a volunteer project. I'm doing it because his message is important. If it happens to be published and do well, then I'll make some money with it. If it doesn't, that's okay. However, it's another one of those projects that I'd love MANY people to read so they'd get the benefit from it.
What is your best method or website when it comes to promoting your books?
Radiant Hen sells my published books at www.RadiantHen.com, and they do sell better when I'm out there doing book signings, school presentations, and so forth. I'm only now dabbling in the Internet interviews and sites like Goodreads, so the success of that remains to be seen! Word of mouth and having people "see" me in person does seem to be the best marketing right now.
Do you have any advice for new authors?
It's probably hackneyed, but PRACTICE PRACTICE PRACTICE and above all do NOT give up. If I let the first rejections crush me, I would have never published the books or articles I have. Now I have written for a number of magazines, have stories in quite a few anthologies, and have 4 books to my credit. It may be small potatoes, but darn it all, those are MY small potatoes and I'm loving them. 😉
What is the best advice you have ever heard?
"Read the submission guidelines"
"Show don't tell"
"Make Connections"
What are you reading now?
I just finished "Proof of Heaven" by Eben Alexander. I read a lot of non-fiction as well as fiction. The last fiction I read was "The Scorpio Races" by Maggie Steifvater. Excellent book!!!
What's next for you as a writer?
I think I covered the writing projects part, but I must say my "next" at this time is truly huge in my own world! I've given up my career as a K-8 School Counselor and am embarking on the road of professional author (or unprofessional author depending on my mood). I have always written prolifically even while working one full time and sometimes 2 jobs, but then when my children's books came out I cut down to part time, and now, a few years after that, I'm ready to take the plunge. If I don't make it, I don't make it and can always go back to the "regular work world" again. However, nothing ventured, nothing gained. And I of course am quite certain I will make a go of it, since what other attitude is there to have?
What is your favorite book of all time?
It would have to be one of the C.S. Lewis Narnia books, although my brain is thrashing around trying to choose one as the favorite and not coming up with one. I loved them all for different reasons. Therefore, I'm just going to say that's my favorite book SERIES of all time.
Author Websites and Profiles
Tanya Sousa Website
Tanya Sousa Author Profile Other Bookseller
Tanya Sousa's Social Media Links
Goodreads Profile
Facebook Profile