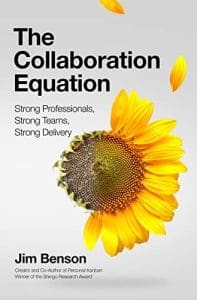 About The Collaboration Equation
The organizations we work for destroy confidence
We starve professionals of information, direction, psychological safety, and purpose by isolating workers in cubicles, teams into silos, and decisions into oblivion. Individuals drift and become alienated, waiting for direction that never comes. This way of working…is not working.
When individuals work in teams, they create value
The Collaboration Equation helps individuals be professionals, teams take pride in their work, and companies become more resilient. This guide enables you to build visual systems where people can see their work and create cultures with the "Right Environment" so they can mind their system.
Stop languishing in costly mediocrity
Practical collaborative work creates its own rewards, its own psychological safety, its own agency, and its own quality control. It abhors defects, hidden issues, and poor communication and has the guts to work for real success.
The Collaboration Equation is a dynamic approach that draws from a lifetime of building collaborative systems to help readers create cultures where individuals know what success looks like, talk about it regularly, and achieve common goals.
Buy the book, and follow the author on social media:

Author Bio:
My career path has taken me through government agencies, Fortune 10 corporations, and start-ups. Through them all my passion remained consistent – applying new technologies to work groups – in each case asking how they can be leveraged to collaborate and cooperate more effectively. I love ideas, creation, and building opportunities. I love working with teams who are passionate about the future. I love pushing boundaries. I love inclusion. My goal with all technologies is to increase beneficial contact between people and reduce the bureaucratic noise which so often tends to increase costs and destroy creativity.