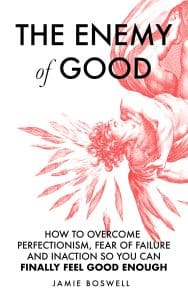 About The Enemy of Good
Do you secretly believe you're not "good enough" to have the life you'd love to live?
Or when colleagues or friends commend you on a job well done, you feel you could have done better or focus on a few mistakes made along the way. Or deep down, you feel you "fooled" them because it had nothing to do with your abilities. You struggle to make critical decisions for fear of failing, making mistakes, or being judged by others. And this leads to procrastination, thinking you are not motivated enough, or believing are not ready for growth or change.
If you identify with the above struggles, then The Enemy of Good: How To Overcome Perfectionism, Fear of Failure, and Inaction so You Can Finally Feel Good Enough may be your step in the right direction. As the Greek mythology figure Icarus flew too close to the sun and his wings melted, perfectionists pursue unattainable goals that result in burnout and dissatisfaction. The Enemy of Good will provide a uniquely insightful and multi-faceted approach to silence your inner critic, stop analysis paralysis, and disrupt the unending cycle of feeling anxious, depressed, and judgmental of yourself and others.
Inside The Enemy of Good, discover:
• the fallacy of perfectionism
•the root causes of perfectionism
•how to identify your perfectionistic tendencies
•ways perfectionism manifests in everyday life
•multidisciplinary, science-based techniques that will help retrain your brain
•how to turn your need for perfection into a more productive, healthy, and happy lifestyle
Even if you've tried but failed to defeat perfectionism in the past, the tools and resources in this book will walk you through the finish line so you never let "perfect" be the enemy of your good again.
Buy the book, and follow the author on social media:

Author Bio:
Jamie Boswell is an attorney, researcher of human psychology and philosophy, and an avid reader and author.
Throughout Jamie's successful legal career, which spans over 15 years, she learned how to navigate challenging cases and clients with diverse personalities and profiles.
Alongside her legal practice, Jamie felt a calling to share her knowledge and experiences in self-help and personal development. Recognizing the profound impact that personal growth can have on individuals' lives, she decided to write books that blended her unique insight as a lawyer into people's motivations when facing particular life situations with practical advice for personal transformation.
By sharing personal anecdotes and practical strategies in her books, Jamie inspires individuals from all walks of life to prioritize their well-being and always strive for personal growth and self-awareness.
Jamie's dual role as an author and attorney has allowed her to touch the lives of diverse audiences. Whether through her legal representation, motivational speaking engagements, or the pages of her self-help books, Jamie feels an unwavering dedication to empowering individuals and fostering positive change.
Today, Jamie continues to balance her legal practice with her writing endeavors and personal life. She especially enjoys being a mom, all things art and music, nature trails, and traveling all over the world and off the beaten path for a more genuine experience.