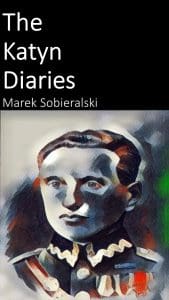 About The Katyn Diaries
First English translation of diaries found at Katyn, with illustrations by Rafal Mroz.
Denied by the Soviets, and hushed up by Poland's allies.
The Katyn massacre was a series of mass executions of nearly 22,000 Polish military officers and intelligentsia that was carried out by the Soviet Union's secret police – the NKVD – in April and May 1940.
Mass graves were discovered in 1942, and with the bodies there were numerous Polish artefacts such as letters, diaries, photographs and identification tags. They were packed into crates and evacuated westward in 1944.
There was a small crate, into which were placed twenty-two diaries and personal notes. Four copies of these items were made soon afterwards in Krakow, and the Polish Home Army then delivered its transcripts to the Polish government in exile, in London.
Presented for you here are English translations of twelve of those diaries, which open a window into the individual and personal tragedies of these very different individuals. They give us an insight into their everyday lives in captivity, and the very real and very human emotions and hardships they experienced during what was undoubtedly a difficult and testing time.
Reviews of The Katyn Diaries:
The diaries of the prisoners of Kozelsk camp, discovered on their bodies in 1943, provide a fascinating insight into daily life in the NKVD prison camps where the men were held between September 1939 and April/May 1940. By making the diaries available in English for the first time, Marek Sobieralski renders a valuable service to scholarship on this subject.
Jane Rogoyska
Historian and biographer, acclaimed author of Gerda Taro: Inventing Robert Capa
Miraculously survived, these twelve notebooks by the victims of the Katyn massacre reveal the details of their life in captivity, and document their subjective experiences. Frozen and underfed, these young officers took their ordeal with peace of mind. "This trip is not good at all", wrote one of them. "Will they hand us over to the Germans? Will we sit here?", asked another. "The Bolsheviks are generally decent people". Though conditions were worsening, letters were permitted and, sometimes, actually arriving. Crowded in the ruined monasteries, these Poles admired the beauty of the Russian woods and churches. They received vaccinations for typhus and watched Soviet films with the titles such as "Golden Taiga" or "Great Comrade". They wrote down their nightdreams and even organised "spiritualist seances" to see their dear ones. Until the last moments, they did not anticipate their forthcoming end. Carefully translated and commented by a grandson of Polish refugees to England, this stunning collection will be cherished by its readers.
Alexander Etkind
Professor of History, European University Institute in Florence
Buy the book, and follow the author on social media:
Author Bio:
I live in Wiltshire in the UK, and am the grandson of Polish refugees who settled in England after the 2nd word war. I am interested in all things history, but particularly the convoluted times of the early to mid 20th century. I am interested also in fathoming out my own family's journey during these times, and so to understand how I got here.
The Katyn Diaries is my first book, but hopefully not my last, with several projects currently slowly taking shape.