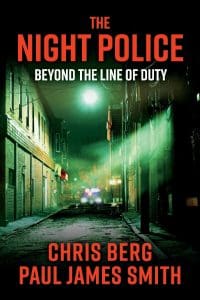 About The Night Police: Beyond The Line Of Duty
Based on real-life events, THE NIGHT POLICE is a deeply complex, page-turning anthology. These thematically linked short stories reunite five warrior lawmen for a cathartic night of drinking, a homecoming of sorts. Instead, they are sucked into a violent tale that unburies the past. No one escapes unscathed.
In this gritty, police procedural, you'll meet the dangerous men that are The Night Police, the street monsters amongst their peers. A true crime-inspired debut book by two veteran lawmen provides a peek through the keyhole into the professional and private lives of five rough men. Never politically correct, the hard edges have not been ground smooth to avoid abrasive thoughts or suspect tactics.
Meet the rebel trooper Max Golden, the common thread in a dark journey from which not one of these men will escape unscathed. Max isn't content to spend his career as a humble, rule-following civil servant. Refusing to seek danger isn't his style. And in the squalid, crime-ridden streets of Bristol City, he finds danger in spades. Dope deals gone bad, street brawls, murder and more keep him and the other members of The Night Police bonded tightly together in their self-made fraternity.
The city was a disheveled, comfortless township of 900,000 somewhere not too far west of the Mississippi. Born of the rust belt and failing in the final decades of the 20th century, it provides the backdrop for this cast of characters in blue.
For these men and women who rode out the final chapters of the millennia, policing the city's streets was a dangerous endeavor. It required special, often extraordinary lawmen in decaying neighborhoods, spilling over with crime. Bristol City's finest were routinely exposed to the unthinkable. The unknown cry for help, complex and sometimes deadly. Blistering and dangerous pursuits through the city's perilous streets. Tense, urgent undercover buys with everything at risk. Death as seen through the eyes of lawmen, who saw it often. Gruesome, chilling, painful, and yes, sometimes even comforting.
Many of them found refuge from these experiences and emotions by embracing a new family. This is a chronicle of the fraternity that helped shield them from the intense pressures of urban policing. It tells the real stories, with the authentic voice of those who lived to reveal the truth.
In true ripped-from-the-headlines fashion, the stories related in this book may seem improbable but are all based on true events. The Night Police provides truth and insight into the demons behind the badge.
And for those of you in law enforcement, The Night Police will have special meaning for anyone who has ever worked the streets, dealt with informants and lived the life on that razor's edge.
Buy the book, and follow the author on social media:
Learn more about the writer. Visit the Author's Website.
Like the Authors Facebook Fan Page.

Author Bio:
Chris Berg was born in the '50s in Gridley, California to a state game warden and his Army nurse, wife. Except for a short stint living in New York City, he's lived most of his life on the left coast. After graduating with his B.S. from San Jose State University he made his way to his true calling. In 1977 Chris became the third generation of his family to sign on as a lawman.
Like most "on the job", he started out pushing a patrol car. Working graveyard suited him just fine, and it was there he joined the ranks of the Night Police. Chris spent time as an evidence technician, long before CSI was a thing. As a detective, his assignments included Vice and Intelligence but it was his posting as an undercover narcotics agent that fit Chris best. He relished the life of hand to hand undercover drug "buys", clandestine lab investigations and the requisite counterfeit persona.
With hundreds of narcotics investigations under his belt, he became a field training officer for up-and-coming undercover detectives. He filled in the career gaps testifying as a court-certified "expert witness" in narcotics and dangerous drug investigations throughout the west.
Chris has chronicled many of his experiences in this book and he still revels in the adventures and friendships that come with being part of the police fraternity.
After Chris' early exit from law enforcement due to injury, things might have gone south for him, but he held on. His successful second career in corporate America, well… it bored him to death.
The saving grace in his new profession was the travel and in truth, it wasn't without its moment's. His business routinely took him to exotic locales, Malaysia, Dubai, Moscow, Australia, San Paulo and Rio, Hong Kong, Bangkok, Tokyo, Uruguay, Taipei and Beijing, to name just a few. As for the continents, he only missed checking off Antartica. Having pages added to his passport became routine.
A rape-homicide investigation in India. A terrifying run for his life in the rioting township of Nyanga, Capetown, South Africa. A ridiculous trip to Argentina to understand Buenos Aires was not burning at all, CNN was literally creating the news they wanted to broadcast.
His business led him to associations with the UK's MI5 and MI6 intelligence services and work with most of America's alphabet agencies. Chris even spent a frigid All Saint's Day in a very eastern European city "drinking well" with a couple of mysterious ex-Stasi operatives. Despite them being "shameless and corrupted."
While it sounds like a hell of a second career, the balance of that life left a lot to be desired for Chris. He maxed out on teleconferences, pivot tables, and budget battles. It was a world that preached HR enlightenment but routinely and repeatedly layed off hundreds of employees for the next "flavor of the month" business initiative. That world was never a fit, not for an ex-Night Policeman.
Although Chris wrote long before becoming a dedicated writer, he jumped in full time after retiring from his "mind-numbing" corporate experience. In 2017 he teamed with his real-life Night Police partner Paul James Smith, lighting the fuse for the next big challenge he craved. The Night Police, the first novel in the series, is the result.
Chris and his wife Janet now call southwest Florida home. He also keeps up with his passions: baseball, fishing, and all things cooking and BBQ, not necessarily in that order.
Paul James Smith served community and country in a variety of pursuits from age 19 to age 59. After completely flunking out at San Diego State, a Marine Corps recruiter handily outsmarted him, and he fell for the old "aviation guarantee". This launched a long and checkered career of service as enlisted marine, a local lawman, Federal Agent, and reserve Coast Guard officer where his assignments included command of two expeditionary units, Commander, Maritime Security Force, Guantanamo Bay, and four wartime deployments to the Persian Gulf.
Paul's 31 years of cop experiences ran the gamut-Patrolman, Field Training Officer, SWAT, Detective, Federal Agent, Sniper and Sniper Instructor, and National Tactical Team Leader. The cases were varied too; seizing meth labs, busting outlaw motorcycle gangsters, and special operations at Ruby Ridge and Waco. He shares many of his law enforcement experiences in the Night Police.
After retiring from active service, Paul and his wife Kay ran a gun shop in Alaska for a few years. He built custom rifles, and they collectively lost their minds to boredom. They now live at the edge of Puget Sound in the Pacific Northwest, he writes, she gardens, together they go Dungeness crabbing from their kayak. They are enjoying life to the fullest.