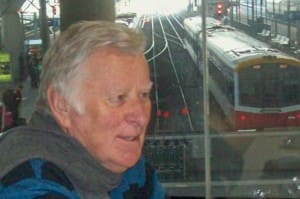 Tell us about yourself and how many books you have written.
I published a collection of poetry in my teens but that desire faded as I got older. I came close to having a teen 'peacenik' novel about protest over French A-bomb testing in the Pacific just before that. In my later years, facing the possibility of being re-structured out of my job at the time, I took up writing novels again.
I've since published 6 thriller-suspense novels.
I live in the capital city of New Zealand. I'm married (one wife for life) and have many grandchildren & great-grandchildren.
I retired young. My last fulltime job was in the Department of Conservation.
What is the name of your latest book and what inspired it?
"Green Expectations". The inspiration?
First of all it was my love of writing. Secondly, I was following the literary maxim that an author should write, as uniquely as possible, about what he or she is familiar with. At the time of writing my first draft I was working in the Department of Conservation and, among other duties, dealt with the government agency responsible for management plans under the Forests Act and followed developments in the forestry industry. Years earlier, I was a branch committee member of a large non-government conservation organization and, over years of public service, had a lot to do with national conservation and environmental organizations.
All this experience came together in writing Green Expectations. I wanted to dramatize a footnote in environmental management in New Zealand to make an entertaining story. All characters are a total fiction, of course.
Do you have any unusual writing habits?
Before the computer came along I used to do almost all my writing in bed.
What authors, or books have influenced you?
Clancy, Ludlum, Chrichton, King
What are you working on now?
I would have liked to pick up a 7th manuscript I'd finished but the document was irretrievably corrupted in the computer and a large part lost. Somehow I missed out on saving a paper copy. I don't have the heart to try and re-create it.
What is your best method or website when it comes to promoting your books?
I use many social & writer websites – I blog post on Goodreads & tweet on Twitter. as my main methods. I hope my association with Awesomegang will be fruitful.
Do you have any advice for new authors?
Work hard, get professional advice, strive for the best.
What is the best advice you have ever heard?
"You don't fail until you stop trying" – St Theresa of Avila
What are you reading now?
One thriller after another – spiced occasionally by something different.
What's next for you as a writer?
I've got to find a plot for my second novel as soon as I get through promoting my 6th.
What is your favorite book of all time?
The last one I read – I usually have a good nose for books that will interest & entertain me. There are so many over so many years that I can't really say I have an all time favourite.
Author Websites and Profiles
Thomas W Devine Website