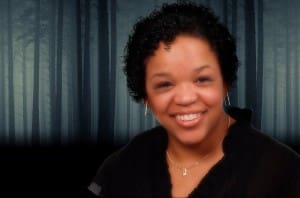 Tell us about yourself and how many books you have written.
Two books have been released in my Spark Before Dying Series. I have three more books, which are in one level or another of completion.
What is the name of your latest book and what inspired it?
My latest book is ANGELS CRY, and this was inspired by the rise in human trafficking and missing women in the area. I wanted to create a story that showed another perspective of the police officer, including his cynicism, and the struggles that he had with his case. Because I was participating in the Citizen's Police Academy at the time, I was able to speak with several officers and get a better feeling of what it meant to wear the blue — not only the honor of it, but also some of the struggles.
Do you have any unusual writing habits?
When writing, I attempt to truly immerse myself in what I am writing. I ignore the world, make coffee or tea and refuse to drink them, and just get lost in the world of my creation. I like to think of this time as Coffee with Characters.
What authors, or books have influenced you?
My writing is very much influenced by thriller and mystery greats, such as Thomas Harrison and Jeffrey Deaver; and because I believe that relationships are a part of every story and a part of the character development, romance writer, Jude Deveraux, has influenced my work as well.
I consider myself to be a crime fiction writer due in part because of how a story may be more suspense than mystery, such as ANGELS CRY. I braid my writing together — infusing my tales with crime, mystery and/or suspense and the human relationships surrounding it all.
What are you working on now?
Currently, I am working on a episodic serial, created in my Spark Before Dying World. The set of stories is called COLLECTING ALL THE PRETTY GIRLS and episode one is expected to be released in October.
What is your best method or website when it comes to promoting your books?
The best website I've found to be helpful in book promotion is Facebook. By creating a fan page, which I am active on, and creating relationship with readers, who have signed up for my monthly newsletter (sign up here http://eepurl.com/llOF1 ), I've been able to create a community, building interest in my series and numerous writings, such as blog posts, articles etc, and continue to provide entertaining and informative posts which prompts interaction between me and my readers.
Do you have any advice for new authors?
Figure out why you wish to write and book how you define success. Success is a term that is often thrown around, but it means different things to different people.
What is the best advice you have ever heard?
Get it on the page; you can't edit something that hasn't been written.
What are you reading now?
I'm currently reading Bad Wolf by Nele Neuhaus. I am loving this book and would recommend.
What's next for you as a writer?
With the audio book versions of both THOU SHALL NOT and ANGELS CRY coming on this fall, as well as the beginning of the episodic serial, I am looking forward to continuing the series with the next full length novel, called NUMBERS.
If you were going to be stranded on a desert island and allowed to take 3 or 4 books with you what books would you bring?
Only three or four books? I think I'd need three or four crates of books.
But, no seriously, my top four books would be: Through a Glass Darkly by Karleen Koen; A Knight in Shining Armor by Jude Deveraux; Bone Collector by Jeffrey Deaver; and, Red Dragon by Thomas Harris.
Author Websites and Profiles
Tina Glasneck Website
Tina Glasneck Amazon Profile
Tina Glasneck's Social Media Links
Goodreads Profile
Facebook Profile
Twitter Account