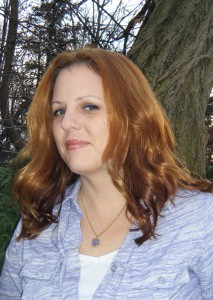 Tell us about yourself and how many books you have written.
So far I have 2 books published. (The first 2 of the young adult, Shiver Cove series.) I've actually written 6 of the Shiver Cove series and am currently working on the 7th and final book. I've also written 2 adult horror novels that may never see the light of day, but each was an invaluable learning tool.
What is the name of your latest book and what inspired it?
The latest book I published is Shiver Cove, Part 2: Val.
The inspiration for this book was to write the type of book that I would love to read as a young adult. Plus I had so much fun writing Part 1, I knew I would have to stay in the Shiver Cove world for a while and hang out with each of the characters for their own stories.
Do you have any unusual writing habits?
I sit down and give myself a word count and try not to allow myself to become distracted until I'm done. I always have music playing and it's always different types. My writing habits are pretty routine and boring.
What authors, or books have influenced you?
I've always been an avid reader, so I have many influences. From a young age RL Stine and Christopher Pike caught my attention. I soon progressed to Stephen King and Dean Koontz. With these authors being favourites before high school and to this day, I guess it's hard not to be influenced by them. I love dark stories with monsters (human and otherwise).
What are you working on now?
Currently, I'm working on book 7 (the final) of the Shiver Cove series.
I love the Shiver Cove world and characters so much, I'm starting to think spin-off series so I can stay there a little longer.
What is your best method or website when it comes to promoting your books?
Honestly, I'm still trying to figure the marketing stuff out. If I strike gold with somewhere I will get back to you on this one.
I do feel it's important though, to interact with your readers as people not just potential buyers.
Do you have any advice for new authors?
Read. Write. Edit. Repeat.
Seriously, there are no short-cuts.
What is the best advice you have ever heard?
See above.
That and never turn down an opportunity to travel.
What are you reading now?
I read a book or two a week. Some young adult and some adult novels. For the next day or two (July 20th, 2015) I'll be reading: My Soul to Save, by Rachel Vincent.
I've changed up my reading list a bit to include recommendations from my readers.
What's next for you as a writer?
I'm thinking a spin-off series from Shiver Cove.
If you were going to be stranded on a desert island and allowed to take 3 or 4 books with you what books would you bring?
Traveling Vampire Show, by Richard Laymon
The Conqueror Worms, by Brian Keene
Watchers, by Dean Koontz
And maybe a survivalist's guide.
Author Websites and Profiles
TJ Shortt Website
TJ Shortt Amazon Profile
TJ Shortt Author Profile on Smashwords
TJ Shortt's Social Media Links
Goodreads Profile
Facebook Profile
Twitter Account
Pinterest Account