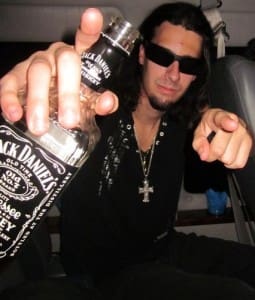 Tell us about yourself and how many books you have written.
I do things my way, I've been labeled a rebel. I don't do things to entertain others, I do them to entertain myself however, if others are entertained then it's just a bonus. In the simplest way to describe myself, I will just quote the great Jim Morrison "I see myself as a huge fiery comet, a shooting star. Everyone stops, points up and gasps "Oh look at that!" Then- whoosh, and I'm gone…and they'll never see anything like it ever again… and they won't be able to forget me- ever"
I've only written 1 book and am currently writing the 2nd.
What is the name of your latest book and what inspired it?
The name of my latest book is Trouble and what inspired it was the fact that I've had so many people over the years tell me that I've done so much stuff that I should write a book. By so much stuff they meant causing trouble, pranks, hilarious escapades. Not to mention the older you get the more things you forget, so what I wanted to do was write out everything so that my friends and I can sit back when we're older, pick up this book & be able to remember the good old days.
Do you have any unusual writing habits?
I usually keep a pen & paper on the floor by my bed so if I wake up in the middle of the night, I can write down my thoughts. I also always write with music on.
What authors, or books have influenced you?
Nikki Sixx, Vince Neil, Steven Adler, Slash & all those musicians that have had awesome lives that they were able to convey onto paper for the world to experience through reading.
What are you working on now?
I'm currently writing my 2nd book which would cover pre 2000 & post 2008 since Trouble takes place from 2000-2008.
What is your best method or website when it comes to promoting your books?
My Facebook page
Do you have any advice for new authors?
Yeah, do it for you and no one else. Write your book for you & no one else and if you're in it for the money, you're doing it for all the wrong reasons.
What is the best advice you have ever heard?
I tend not to listen to advice, I do things my way on my own terms and I'm either going reach the stars or crash & burn but at least I know whatever the outcome that I did it my way.
What are you reading now?
The Heroin Diaries by Nikki Sixx
What's next for you as a writer?
Living the next story so that I can write it!
What is your favorite book of all time?
It's So Easy (and other lies) by Duff McKagan
Author Websites and Profiles
Tom Paciaffi Amazon Profile
Tom Paciaffi's Social Media Links
Facebook Profile