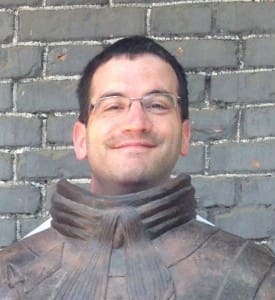 Tell us about yourself and how many books you have written.
I'm 35, based in Salisbury, England and I write fantasy novels. I have just finished a 7-book series.
What is the name of your latest book and what inspired it?
I have just published The Immortal Queen, the final book in my Three Cards series. I was looking to do something a bit different and settled on the idea that everybody is composed of three Cards, which influence how they appear and how they act. It was supposed to be one book, but I got carried away and now there are seven!
Do you have any unusual writing habits?
I've found from talking to other authors that a lot of habits I thought were unusual are actually fairly common. I guess I have a higher than average character mortality rate…
What authors, or books have influenced you?
Most recently, George R.R Martin, and I've been reading Gene Wolfe again. Wolfe was one of my earlier influencers. Going back to childhood, Tolkien and C.S. Lewis had their hand, as did Pratchett.
What are you working on now?
The Stars From The Dead. Set in the same world that I established in The Three Cards, it explores a new continent and deals with extreme climate change.
What is your best method or website when it comes to promoting your books?
I'm awful at promoting my own books. I confess to being shy when talking about it in person, so I do prefer tweeting and blogging. Recently I've connected with readers a lot more by e-mail and that's been very rewarding.
Do you have any advice for new authors?
Just dive in. You will make lots of little mistakes but you'll figure them all out as you go. My first two (unpublished) books were just practice, so I didn't have to worry too much about the mistakes I made, it was writing for the sake of writing. They were lots of fun and I learned without being under any pressure.
What is the best advice you have ever heard?
Take your time.
What are you reading now?
The Book of the New Sun, by Gene Wolfe
What's next for you as a writer?
To finish The Stars from The Dead. It's the first in my new series of (5) books, named The Three Eyes.
If you were going to be stranded on a desert island and allowed to take 3 or 4 books with you what books would you bring?
Four BIG blank books to write in.
Author Websites and Profiles
Tomas Care Website
Tomas Care Amazon Profile
Tomas Care's Social Media Links
Goodreads Profile