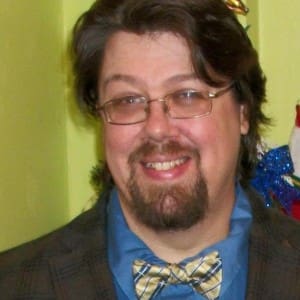 Tell us about yourself and how many books you have written.
I wear a lot of hats. In addition to writing books, I'm an illustrator, creation speaker, apologist and ordained Gospel preacher. I'm actually better known as the founder of DefGen.org, CreationLetter.com and CreationSundays.com. I'm from from West Virginia, from which I draw a lot of my inspiration and characters.
I got the writing bug as a child when my late aunt Sharon helped me make my very first book. It was about dinosaurs, vigorously illustrated in crayon. In high school, I kept up a regular serial work called Space Nitwits, or The Book of 100 Characters, where I drew a new creature every day and then wrote about its ecology, history, discovery etc. I usually worked on it during English class, because 11th grade English turned out to be 9th grade English all over again and I was really, really, really stinking bored.
Johnny Came Home, published September 28, 2012, was my first book. I'm currently writing the next John Lazarus adventure, John Lazarus: Mann from Midwich, as well as the first novel in a new sci-fi series called Øtherworld and a children's book called The T-Rex and the Fuzzy Bunnies: A Bedtime Story for Boys.
What is the name of your latest book and what inspired it?
Johnny Came Home came about, in part, because I was looking for a good book to read and just couldn't find what i was looking for.
I was browsing local Christian bookstores, just bored out of my mind. With few exceptions, I was looking an endless sea of romance novels, marketed at women. I'm a guy, so I'm into science fiction, fantasy and action thrillers. I remember thinking, "Why should I be forced to get the stuff I actually enjoy reading from secular bookstores in novels written from a non- or even anti-Christian worldview?"
The success of the Left Behind series demonstrated how influential exploratory fiction can be in shaping and reinforcing beliefs concerning eschatology. I realized that apologetics fiction could do the same for evangelical convictions concerning our origins. With that in mind, I set out to tell a great sci-fi story that gives a plausible young earth creationist explanation of comic book super powers rather than the prevalent evolutionary assumption of beneficial mutations, popularized in the X-Men movies and on TV shows like Heroes.
So I started writing, but Johnny Came Home wasn't supposed to be my debut novel. You see, I was actually taking a break from another project when I took up the NaNoWriMo [National Novel Writer's Month] challenge to complete a 50,000-word novel over the course of November. You were supposed to start from scratch, and I'd always wanted to write a superhero story, so Johnny Came Home began to take shape, one chapter at a time.
Do you have any unusual writing habits?
I write a minimum of five minutes a day, every day, no matter what. I may write longer than that, but it's always at least five minutes.
I still use the NaNoWriMo challenege method to get the nucleus of my story, but that's where the real crafting begins. NaNoWriMo may be good for getting out a 50,000-page story, but a lot of editing and re-working were required to ready Johnny Came Home for publication. I look at it this way: you can't begin chiseling out your sculpture until you first have that block of stone to work with.
I also write cinematically, meaning that I basically transcribe a movie I see in my head. Being an artist, I sometimes even storyboard a scene before writing it. All good movies have rules and those rules change a bit from genre to genre, but the great ones adhere to the 12 Dramatic Steps. One of the first things I do after slamming out the nucleus of my story is to check it against the 12 Dramatic Steps.
What authors, or books have influenced you?
In the fiction category, Greco-Roman mythology, JRR Tolkein, CS Lewis, GK Chesterton, Harry Harrison, Piers Anthony's Xanth novels and Hickman & Weis' Dragonlance saga greatly influenced my writing, but so did a score of movies. To be fair, I'd have to credit folks like Ray Harryhausen, John Woo, Jackie Chan, Spielberg and Lucas, Joss Whedon and JJ Abrams [a short list, to be sure] for influencing me. And don't forget Saturdau Morning Cartoons, dude [wow. Did I just give away my age or what?]. In the nonfiction category, the Bible has most influenced my writing. While I write apologetics fiction, I'm not just talking about how the Bible affects my theme or message or worldview or whatever. If you read the Bible, with all of its drama, intrigue, action and even comedy, it's quite simply still the Greatest Story Ever Told.
What are you working on now?
Ironically, I'm now finishing up the project that was supposed to be my debut novel. Luckbane is the first novel in my new Otherworld series. I've always been a fan of both dice-driven role-playing games like Dungeons & Dragons and the new online MMRPGs [massively-multiplayer role-playing games, for my non-geek friends]. I set out to write a story about folks playing a game live and in the flesh on a world terraformed for that purpose. Of course, this novel takes place pretty far in the future, so it ends up counting both as epic fantasy adventure and science fiction with a bit of steampunk thrown in for good measure.
What is your best method or website when it comes to promoting your books?
Awesome Gang, Facebook, Twitter, Goodreads, and my own website, TonyBreedenBooks.com. I don't really understand the appeal of Pinterest, but my wife says it's because I'm a guy.
Do you have any advice for new authors?
Write for a minimum of five minutes every day. No one writes in a vacuum. Find people you trust to read your work, take their editing suggestions and criticism constructively and learn the craft until you own it. I wrote tons of unpublished stuff before I finally published Johnny Came Home and my writing is so much better for it. Buy yourself a copy of The Screenwriter's Workbook by Jeremy Robinson and Tom Mungovan and also Self-Editing for Fiction Writers by Reni Browne and Dave King.
What is the best advice you have ever heard?
Write the book you'd like to read.
What are you reading now?
I'm finishing up Robert Mullins' Bid the Gods Arise, another good mix of fantasy and sci-fi.
What's next for you as a writer?
The T-Rex and the Fuzzy Bunnies [I promised the kids] and then on to the sequel to Johnny Came Home.
What is your favorite book of all time?
The Stainless Steel Rat by Harry Harrison.
Author Websites and Profiles
Tony Breeden Website
Tony Breeden Amazon Profile
Tony Breeden Smashwords Author Profile
Tony Breeden's Social Media Links
Goodreads Profile
Facebook Profile
Twitter Account