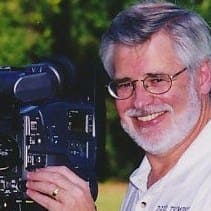 Tell us about yourself and how many books you have written.
Born and educated in South Africa, photographer Tony Maxwell travelled throughout Africa, the Middle East, Europe, Central America, the United States, Australia and finally Canada.
During his time in Australia, Maxwell made a number of trips to the World War II battlefields of the South Pacific. His travels included Papua New Guinea (Kokoda Track, Buna), the Solomon Islands (Guadalcanal), Bougainville and Tarawa. While walking the various battlefields, he photographed the relics of war, the guns, tanks and aircraft rusting in the jungle glades and lagoons of the South Pacific. His latest book, Pacific War Ghosts, describes his experiences visiting those battlefields.
While living in Canada, Tony Maxwell and his son Brad produced a documentary film, The Queen's Cowboys. The film tells the story of a Canadian regiment, Strathcona's Horse, that fought in the Anglo-Boer War of 1899 to 1902. His first book, Searching for the Queen's Cowboys, tells the story of their experiences while filming in South Africa.
He is currently working on his first full-length novel, The Foreigner. It is the story of a young Canadian who travels to South Africa prior to the turn of the 19th century. When the Anglo-Boer War breaks out, he joins the Boer forces and finds himself fighting on the opposite side to his younger brother, who is serving with a Canadian regiment
What is the name of your latest book and what inspired it?
The Foreigner. A series of three adult adventure novels set in England and South Africa around the turn of the 19th century
Do you have any unusual writing habits?
I don't do as much writing as I should. Trying to promote existing books takes up a lot of my time.
What authors, or books have influenced you?
I would have to say just about everything I've ever read.
What are you working on now?
The third novel in the Foreigner series. The second is about to go to the publishers.
What is your best method or website when it comes to promoting your books?
Amazon, of course and the dozens of smaller websites dedicated to helping authors promote their work.
Do you have any advice for new authors?
Just get on with it and do it!
What is the best advice you have ever heard?
Someone once told me I would never make a writer!
What are you reading now?
One of Tony Park's novels, African Dawn.
What's next for you as a writer?
Getting The Foreigner published as a paperback.
What is your favorite book of all time?
Jock of the Bushveld by Sir Percy Fitzpatrick.
Author Websites and Profiles
Tony Maxwell Website
Tony Maxwell Amazon Profile