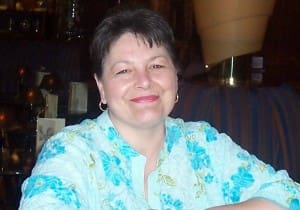 Tell us about yourself and how many books you have written.
I'm a grandma who likes to read and write smut, otherwise known as erotic romance. But I'm also a daughter, mother, sister, aunt, friend and author. After my soul mate of seventeen years passed away I retired from Disney, and moved in with my daughter and her family. I have my own woman-cave and I share it with four cats whose main goal in life is to get as much cat hair onto everything that they can. They're doing a fabulous job!
For as long as I can remember I've wanted to be a writer. I didn't actively pursue getting published until my family encouraged me. Just to get them off my back I submitted Cupid's Arrow, which I wrote under my real name Debbie Wallace, to Whiskey Creek Press and that book was on the publisher's best sellers list for two consecutive months! After that there was no looking back for me. My publishers are Ellora's Cave, Total-E-Bound, Whiskey Creek Press Torrid, The Wild Rose Press, and Liquid Silver Books. I also have several self-published books with Smashwords. To date I have 19 published ebooks, some offered in print.
Today I spend my free time between family and writing. I enjoy traveling, especially cruising. I've been to places like Alaska, Croatia, Spain, Italy, Greece, Bahamas, and some day hope to make it to Ireland. I love chocolate (who doesn't?) sweet iced tea, and good coffee.
I like hearing from readers. You can reach me at: tory.richards@yahoo.com
What is the name of your latest book and what inspired it?
My latest book just came out yesterday! Surrender to Desire is the second book in a trilogy that covers the Evans brothers. A Perfect Fit was book number one. Both are stand alone romances. Inspiration came from a reader who begged me to write about the Texas brothers, who also happen to be identical triplets!
Do you have any unusual writing habits?
Other than sitting in my recliner with a lap top on my lap, and usually two cats crowding me for attention? No:)
What authors, or books have influenced you?
The first romance I ever read was Rosemary Rogers, Sweet Savage Love. I was about sixteen I think. Then I went on to read a ton of Barbara Cartland books. But my all time favorite author is Katheleen E. Woodiwiss. The Wolf and the Dove and The Flame and the Flower are my favorites of her books. It broke my heart when she passed away.
What are you working on now?
Several things. I just finished up a WIP that still needs a title, where the hero is a Navy SEAL. I also started the third book in the Evans brothers trilogy, Burning Hunger. I still need to do some serious edits to The Mating Ritual.
What is your best method or website when it comes to promoting your books?
Amazon
Smashwords
Publisher's Websites
Do you have any advice for new authors?
Never give up. If you believe in yourself than someone else will, too. Keep writing! And expect rejections, we all get them. Just don't take them personally. Remember, it's just one person who didn't like your book. It's going to happen.
What is the best advice you have ever heard?
Love your editor. They can be your best friend or your worse enemy. Their job is to make your work the best it can be.
What are you reading now?
Nothing at this time.
What's next for you as a writer?
Just to keep writing. I have a lot of unfinished work, some as old as forty years, that I can work on. Work that was done on a manual typewriter:) If I squint hard enough I can still make out the words.
What is your favorite book of all time?
The Wolf and the Dove by Woodiwiss.
Author Websites and Profiles
Tory Richards Website
Tory Richards Amazon Profile
Tory Richards Author Profile Other Bookseller
Tory Richards's Social Media Links
Goodreads Profile
Twitter Account