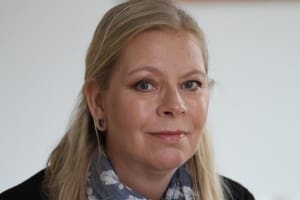 Tell us about yourself and how many books you have written.
I come from the land of the popular TV-series "The Killing", "Borgen" and "The Bridge". I am a journalist, graduated from the Danish College of Journalism.
I have written three books- all with a royal theme.
My first book was called "1015 Copenhagen K – Mary's Dysfunctional In-Laws" and is an un-authorized autobiography of Australian-born Crown Princess Mary and the rest of the Danish Royal Family. This book was a bestseller and made headlines around the world due to its controversial content.
My second book was also non-fiction. It was called "The King and Queen of Greenland" and is a debate book about how to modernize the Danish Monarchy. The title refers to my suggestion that the Crown Prince Couple relocate to Greenland – the world's largest island and part of the Danish Commonwealth – in order to shed their luxury-lifestyle. and become better at serving the Danish people.This book was only published in Danish and is out of print.
My third book is a novel called "Queen of Deception".
What is the name of your latest book and what inspired it?
"Queen of Deception" has just been published. It is a rather dark and shocking tale which focuses on the death bed regrets of the Queen of a small anonymous northern European kingdom, as well as the self destructive escapades of the country's Crown Prince Franz.
Queen of Deception offers an gloomy glimpse of life behind the Palace walls, where the cancer stricken monarch, a victim of the most horrifying cruelty, has sacrificed her own happiness in order to fulfill her royal duty. Prince Franz is determined not to follow in his mother's footsteps.
Sensitive and weak Franz is a reluctant heir to the throne. After a miserable childhood, living in fear of his strict and violent father, Duke Alfonso, and ignored by his cold mother, Franz fights tooth and nail to avoid his royal responsibilities. He seeks solace in alcohol, drugs and casual sex, and alarms his minders by surrounding himself with a sometimes criminal entourage. Franz falls in love with a nurse, but his desire to marry her is thwarted by the Palace and he ends up succcumbing to a highly ambitious foreign commoner called Vicki.
In her final days, the Queen realises that the web of deception she has spun is about to undermine the very institution that she has sacrificed everything to protect.
I used to be a Royal Correspondent and when you have that job you are sometimes allowed a glimpse of life behind Palace walls. It inspired me to explore the human being behind the royal handshake – from a woman's point of view.
Do you have any unusual writing habits?
Well, I like to write in bed. Is that unusual?
What authors, or books have influenced you?
I try very hard not to be influenced by other authors simply because I am terrified of copying their style.When I am finishing up writing a book I have to stop reading other people's book. It's a phobia I have, I think. I have to keep my head and my thoughts "clean".
What are you working on now?
I am working on a sequel to "Queen of Deception." Working on that novel sparked off a whole set of ideas I want to explore. Nothing is set in stone, yet, but I would like to continue to write contemporary fiction with a royal theme. There are loads of books out there – fiction as well as nonfiction about royalty – but they are all historical.
What is your best method or website when it comes to promoting your books?
Nothing beats word of mouth – which these days is social media. When people write a nice review of your book and post it to social media, it instantly affects the sales figures.
I have recently joined Goodreads and I already love the site. The dedication of all the readers and writers from around the world is truly inspiring for someone like me, who lives in a far crorner of the planet, but it is also a little bit intimidating.
Do you have any advice for new authors?
Go for it. Don't be held back by convention or other people's attitudes or opinions. Believe in yourself and the story you want to tell.
Nobody wanted to publish my second book "The King and Queen of Greenland".I was turned down by all the traditional publishers because they found my idea "too small to be a book." Well, I established my own publishing house, did everything myself and my book sold out! This was when e-books and Kindle was still in its infancy. I actually self-published a printbook which is a whole lot different from publishing an e-book.
Today there is no excuse not to have your work published. It is all so easy to do yourself.
What is the best advice you have ever heard?
A prominent Danish author named Jane Aamund once gave me this piece of advice: "Just write."
And I do.
What are you reading now?
I have a huge interest in medical thrillers which stems from when my husband, BBC Correspondent Malcolm Brabant, became severely psychotic after having Sanofi Pasteur's yellow fever vaccine.
As a writer I know that all fiction has its basis in real life, so I devour any medical thriller I can get my hands on in order to learn more about the pharmaceutical industry.
I have gained a shocking insight into the world of Big Pharma due to my husband's vaccine injury and supplements that knowledge with fiction about medical and pharmaceutical issues.
Right now I am reading Ken McClure's "Lost Causes."
What's next for you as a writer?
I want to finish my sequel to "Queen of Deception."
I am also contemplating writing my personal account of what happened when my husband suffered his vaccine-induced psychosis.
My husband has written a book about his ordeal. It's called "Malcolm is a Little Unwell" and it is available on Kindle.
What is your favorite book of all time?
"The Little Prince" by Antoine de Saint-Exupery
Author Websites and Profiles
Trine Villemann Website
Trine Villemann Amazon Profile
Trine Villemann Author Profile on Smashwords
Trine Villemann's Social Media Links
Goodreads Profile