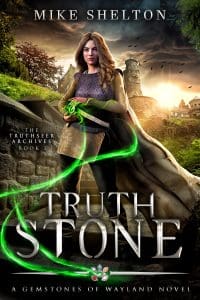 About Truthstone
The lies could kill her, but the truth could destroy a kingdom.
The old woman, out of breath…stopped and gave her the gemstone.
Was it a curse or a blessing?
Given a rare TruthStone, Shaeleen suffers immense agony with every lie she hears or tells. While struggling to control her new power and curb the pain she learns a powerful truth that could thrust an entire continent into civil war.
The stones of power have protected the five kingdoms of Wayland for over two hundred years. Now those stones are failing and a dark power threatens to take control. With the help of her brother, and a young thief, Shaeleen sets out on a dangerous journey to gather and restore the power of all the stones.
Why was she chosen?
Would her life ever be the same?
Readers of fantasy, unique magic, mighty wizards, reluctant heroes, and magnificent kingdoms will enjoy the TruthSeer Archives!
Get it now!
Buy the book, and follow the author on social media:
Learn more about the writer. Visit the Author's Website.
Buy the Book On Amazon.
Like the Authors Facebook Fan Page.
Follow On Twitter.
Follow On Instagram.
Follow On Pinterest.

Author Bio:
Mike has written five YA fantasy series. For information on his new releases, book reviews, and other relevant info, please join him at www.MichaelSheltonBooks.com.
Mike was born in California and has lived in multiple states from the west coast to the east coast. He cannot remember a time when he wasn't reading a book. At school, home, on vacation, at work at lunch time, and yes even a few pages in the car (at times when he just couldn't put that great book down).
Other than reading, Mike enjoys the outdoors, some occasional disc golf, and spending time with his family. He has worked in corporate finance for most of his career, publishing his first books in 2016. He has now published 19 YA fantasy books full of adventure, magic, and wizards!