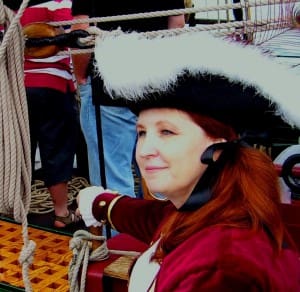 Tell us about yourself and how many books you have written.
I'm old enough to qualify for senior discounts, and I've been writing since I was in kindergarten. It was only a few years ago that I became really interested in getting published, and since then I've been in several anthologies.
I've also been shopping a fantasy book around for quite a while – Publishers and agents say it's too "different". But isn't that what fantasy is supposed to be?
When I got the idea for a series of pirate books, I went straight to self-publishing. And it's worked out really well! I have honest-to-goodness fans, and people asking me when the next book will be out. In the meantime, I keep up my research, and keep writing. I enjoy hanging out with mu fictional pirates. I hope you will, too!
What is the name of your latest book and what inspired it?
I've just finished book three of my series, The Pirate Empire, and am moving on to book four. I'm planning more romance for my heroine, Scarlet, and a lot more adventure and peril as well! And in the meantime, a non-fiction book is on the horizon.
Do you have any unusual writing habits?
.I get up at 5 a.m. and write for an hour every day. And I HATE mornings!
What authors, or books have influenced you?
I've been a fan of JRR Tolkien since middle school. His world-building sets the standard for every fiction writer ever. I also love Patrick O'Brian's Aubrey/Maturin series. It's adventure on the high seas.
What are you working on now?
As I said, book 4 in my series, and a non-fiction book (about pirates, of course) aimed at young adults.
What is your best method or website when it comes to promoting your books?
In doing research for my books, I have found out so many fascinating facts that I began to blog about them. My blog reached over 140,000 hits this month, and is apparently the most popular pirate blog in North America. It drives readers to my books like nothing else.
Of course, it's a lot of work. But it's work I love.
Do you have any advice for new authors?
Find a good writer's group and join. I've been a member of the same group for ten years, and the people in it have become my friends and supporters. We share knowledge and experiences, good and bad. There's not better place for a writer to grow.
What is the best advice you have ever heard?
Don't give up. Some of the best writers I know have stacks of rejections slips.
What are you reading now?
The Jewish Pirates of the Caribbean (more research) and Jim Butcher's Dresden series.
What's next for you as a writer?
First I need to finish this series! But as I continue to work on that, I'll be producing non-fiction and poetry, and also trying to respond to invitations to contribute to various anthologies. My latest is Familiar Spirits, edited by Donald J. Bingle
If you were going to be stranded on a desert island and allowed to take 3 or 4 books with you what books would you bring?
The Lord of the Rings
The Great Gatsby
Geisha by Liza Dalby
Through the Looking Glass
Author Websites and Profiles
TS Rhodes Website
TS Rhodes Amazon Profile
TS Rhodes's Social Media Links
Facebook Profile
Pinterest Account