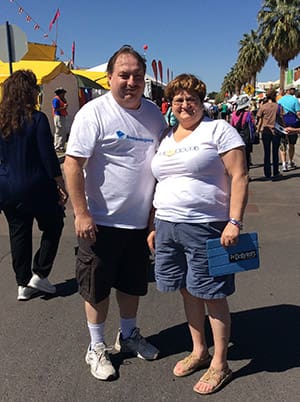 We just got back from Tucson Arizona where Debbie from BookGoodies.com and I attended the Tucson Festival of Books. We had a great time and was amazed at how many people were there.
We spoke to a lot of authors while we were baking in the sun. It was a beautiful day to be out and finding new authors while we explained how we promote books for free and offer free interviews for authors.
As we went from booth to booth one question we kept getting asked was how much do we charge? When the authors found out that they can submit their books to our site and fill out a free author interview they were amazed. It was good to see a few authors that have used our service. One author told me they had sold quite a few books because of our free interview service. That is always nice to hear.
The people working the festival were very nice and helped me a few times with directions and where to find an ATM so I could get cash out for one of the many food vendors that were there. I loved the BBQ I had at Brushfire BBQ. I won't admit how many I had but it was more that 3.
This year they were expecting over 100,000 people at the festival and I am sure the number was higher than that. There were authors from all over the United States and I was happy to have a conversation with Sid Brodkin about Brooklyn NY and the memoir he wrote about growing up in Brooklyn and Las Vegas. It was nice to see someone from close to home all the way out here in Arizona.
They had a little circus/carnival for the kids with jugglers and other  book readings by famous authors. They had something for everyone there. The Science exhibit section was very well attended and the kids seem to be having the time of their life doing things like launching plastic bottles using just air and muscle. It was fun to watch the kids having so much fun.
We found out about the festival only a week or so ago so we didn't have time to get a booth. Odds are we will have one next year for Awesomegang and the Author Ad Network. Looking forward to spending the whole weekend in Tucson next year instead of just one day. To see more about the festival visit the Tucson Festival of Books or follow us on Twitter.
You can see more pictures in our AwesomeGang Authors Facebook Group.