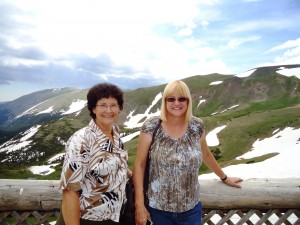 Tell us about yourself and how many books you have written.
My sister Loretta and I have written over 40 books together! Most of them are in the mystery genre. We are the authors of the Jeff McQuede High Country Mystery Series (Murder in Black and White, Whispers of the Stones, and Stealer of Horses). We have also written the the Ardis Cole Mystery Series (The Curse of Senmut, Unmarked Grave, and The Crimson Masquerade). These are archaeological mysteries set in exotic locations around the world. We also have several single title suspense books and short story collections.
What is the name of your latest book and what inspired it?
Our latest book is Crying Woman Bridge. Right now, it is part of the Kindle Scout competition. We feel it is one of our strongest books to date. It was inspired by legends we have read such as La Llorona and tales of haunted bridges. In this story, set in Wyoming, the sheriff and his friend come across a weeping woman who may have thrown her baby over the bridge in a fit of despair. The woman, however, claims the baby was taken by a phantom she calls Mirabella, who is part of the local legend.
Do you have any unusual writing habits?
Neither of us can write without coffee! We do most of our writing in the morning. Not early morning–but after we've both had several cups to get us thinking straight.
What authors, or books have influenced you?
We have both read many of the classics and we enjoy Somerset Maugham, John Steinbeck, and many others. As for more modern-day writers, Tony Hillerman was a big influence on both of us.
We also enjoy books by Margaret Coel, Ruth Rendell, Craig Johnson, C. J. Box and many other mystery writers. Since one of our series is set in the west, we especially enjoy series from this part of the United States.
What are you working on now?
We are working on a new Jeff McQuede mystery. We're only three chapters in so we haven't titled it yet. We are also editing as new Ardis Cole title Killer of Eagles for publication in the fall. So we are keeping pretty busy!
What is your best method or website when it comes to promoting your books?
We have an active Twitter account. We also have an author's page on Facebook, several blogs, and an author's website. We also ike Goodreads, Awesomegang, and Bookgoodies.
Do you have any advice for new authors?
Write the book that is in your heart. Don't try to follow the trends. But if it's in your heart to write a book, then you will find readers, for what interests you personally will also interest them. Readers can always tell whether or not a writer was behind a book a hundred percent. On motto we have is don't think about publishing and marketing while writing the book. Don't think about writing while marketing.
What is the best advice you have ever heard?
Virginia Coffman gave us some good advice starting out. She said don't just write one book. Keep on writing so that you have a backlist. Another good bit of advice we got from an agent was to make every chapter and scene fit the book in some way, if it's extra baggage either make it work or throw it out.
What are you reading now?
Loretta is reading Ancient Blood by R. Allen Chappell, which is set on the Navajo reservation, and
I am reading a thriller called Follow You Home by Mark Edwards.
What's next for you as a writer?
We're going to keep writing series and also have some single titles planned. There are so many ideas that would make good books. We keep a file of them.
If you were going to be stranded on a desert island and allowed to take 3 or 4 books with you what books would you bring?
The Bible, War and Peace, and The Complete Works of Henry James. That would give us enough reading material until we were rescued. If possible, we'd tuck in a little Tony Hillerman and Ruth Rendell for entertainment, as well.
Author Websites and Profiles
Vickie Britton Website
Vickie Britton Amazon Profile
Vickie Britton Author Profile on Smashwords
Vickie Britton's Social Media Links
Goodreads Profile
Facebook Profile
Twitter Account