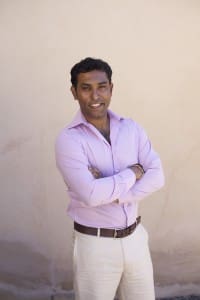 Tell us about yourself and how many books you have written.
This is my first book! I am transformational speaker and relationship coach. I spent 3.5 yrs writing this book.
What is the name of your latest book and what inspired it?
The book is called Yoga & Love. I was inspired to write as there was a newspaper article about how I met my wife through meditation. A lot of people asked me about how to use yoga meditation to find your soulmate. This is my offering of love to the world.
Do you have any unusual writing habits?
Haha yes, I am an expert @ staring at a blank word doc for hours and keeping it squeaky clean without defiling it with my thoughts. I did end up writing almost 15 hrs a day for many years.
What authors, or books have influenced you?
Autobiography of a Yogi by Paramahansa Yogananda, Think and Grow Rich by Napoleon Hill
What are you working on now?
I am working on a screen play for my big Hollywood movie.
What is your best method or website when it comes to promoting your books?
I have a marketing team that works on facebook ads plus I am on TV a lot.
Do you have any advice for new authors?
Yes make sure to write everday even if it is for 15 min. And from time to time, get your friends to read it and ask for honest feedback. Other option is to write blogs every week, that is how I started.
What is the best advice you have ever heard?
Take out the word "can't" from your vocabulary.
What are you reading now?
I am reading Steve Jobs's biography
What's next for you as a writer?
I am planning six more books after my screenplay.
What is your favorite book of all time?
Autobiography of a Yogi
Author Websites and Profiles
Vish Iyer Website
Vish Iyer Amazon Profile
Vish Iyer's Social Media Links
Facebook Profile
Twitter Account