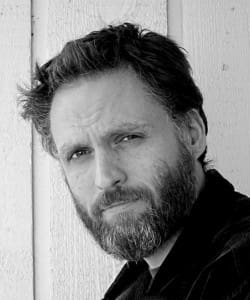 Tell us about yourself and how many books you have written.
I'm 38, I've been married for 15 years and my son is 9 years old.
I'm currently a cook at an upscale Cajun seafood restaurant called Pappadeaux, but writing and entertaining people are what I enjoy the most.
I wrote a short story a long time ago, was told "Lol, don't quit your day job," a few times and unfortunately allowed the spirit of that advice to shake my confidence.
I would be a much better writer if I'd kept at it back then.
Still, I've written one novel, I like it and I'm determined to keep writing now, despite my day job.
What is the name of your latest book and what inspired it?
Antioch.
It is the first in a series of low fantasy/steam-punk books I'm writing called The Circle, about a small group of men who guard an extraordinary secret.
I'm inspired by the idea of the warrior-priest from role-playing adventure games, a character that balances religious ideals against the necessity of violence.
Though not a christian myself, I use a lot of christian symbolism.
I also use a lot of violence.
My older brother, never to be impressed by me, said it reads like fan-fiction of the Bible.
I thought that was pretty funny.
Do you have any unusual writing habits?
I don't know.
For this book, I was a stay-at-home dad.
I'd get up at 6:30, make a pot of coffee, get my kid off to school and then sit down to write.
The next thing I knew the coffee was gone and it was time to pick my kid up from the bus stop.
I did that for two years.
What authors, or books have influenced you?
More than any other single work, Stephen King's "On Writing."
Reading that book feels like having someone believe in you.
I also like Tolkien for "The Hobbit," Rowling for Harry Potter, Crichton for "Jurassic Park" and many comic book authors, like Stan Sakai for Usagi Yojimbo, Wendy and Richard Pini for Elf Quest and Matt Wagner for Mage.
What are you working on now?
Right now I'm marketing Antioch and brainstorming the next book, Golgotha.
I joked in the promotion of Antioch that it was like a medieval Star Wars with zombies.
If that's even close to true, Golgotha will be like Batman with vampires.
What is your best method or website when it comes to promoting your books?
I'm very new to promotion, so right now most of my sales have come from friends, family and Facebook.
I've also been updating threads in each of the online communities I'm a part of, Goodreads.com, my old World of Warcraft guild (Eredar's Scalebane -Heya! Let's ride!), the Street Fighter IV forums on Shoryuken.com and a mixed martial arts site I like called MMAShare.
I have a podcast on my own website, www.WilliamEHarlan.com, in which I read one chapter of Antioch each week, uploaded with an illustration, and offer that as a free audiobook to generate interest.
This is my fourth week of the podcast and it's more popular each time.
After releasing the 32nd chapter, the end of the book, I'm going to re-release Antioch with the illustrations.
The audiobook will remain free.
I figure if people like the free stuff, they'll throw me a bone and buy my ebook from Amazon for 2.99.
Do you have any advice for new authors?
The most important thing to do as an artist is to make art.
I was a sculpture major in various universities across Texas for about seven years.
That's called being a super-senior.
Over and over again I had art professors tell me "The most important thing to do as an artist is to make art."
For seven years I was like, "Well DUH!"
Then one day I suddenly realized that the only time I was ever sculpting anything was for a grade.
I never wanted to do it on my own.
I never wanted to make art.
I left the fine arts program shortly after that realization.
After everything I've gone through with this book, I know that I'm now following that advice and doing what I'm supposed to be doing.
I'm making art.
My advice for other authors – the most important thing to do as a writer is to write.
What is the best advice you have ever heard?
I think I accidentally answered this one already.
Sorry, I should have read through the questions first!
What are you reading now?
I'm reading "Dead of Eve" by Pam Godwin for the Goodreads book club Apocalypse Whenever, "Wool Omnibus" by Hugh Howie for the Goodreads book club The Sword and Laser, and Syd Field's "Screenplay" for my own improvement as a storyteller.
What's next for you as a writer?
Growing my name and growing my series.
I enjoy this stuff.
What is your favorite book of all time?
As a reader, Jurassic Park.
It's horrific and consuming.
It's the only novel I've ever read in one sitting.
I stayed up all night and skipped school the next day to do it too.
Take that, Katy Independent School District.
Author Websites and Profiles
William Harlan Website
William Harlan Amazon Profile
William Harlan Author Profile Other Bookseller
William Harlan's Social Media Links
Goodreads Profile
Facebook Profile
Twitter Account