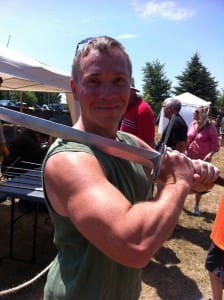 Tell us about yourself and how many books you have written.
Hi, I'm William. I'm a husband, father, former soldier, and proud owner of a German Shepherd named Thor. I've written two books and a number of short stories. I served as an Intelligence officer in the Canadian army for 32 years and have operational tours in Afghanistan and Bosnia. I love fitness, martial arts, and most things medieval and violent.
What is the name of your latest book and what inspired it?
The book is called Starlight: Book 1 of the Dark Elf war, and it's inspired by my love of old mythology and Dungeons and Dragons. I've always wanted to be able to cast a fireball at a group or orcs and feel as though the future has let me down–so I created my own world where these things are possible.
Do you have any unusual writing habits?
I like to wake up during the wee hours, about 2-3AM and write while the house is asleep. Except for my dog, Thor, who always gets up and hangs out with me.
What authors, or books have influenced you?
Steven King, Graham Masterton, J.R.R. Tolkien, G.R.R. Martin, and, of course, H.P. Lovecraft. I love me some violent, spooky stuff.
What are you working on now?
I'm currently putting the finishing touches on the first part of a two-part dark fantasy tale. It's called The Sword of Heaven: Book 1 of the Vampire Queen Saga, and will be out around Christmas 2015 or soon after.
What is your best method or website when it comes to promoting your books?
I like to think great work will find its own audience, but I know that's not always true. Word of mouth will kick in, but first you have to get some visibility. For me, book bloggers have always been helpful, as they are usually reviewing and marketing books for the sheer joy of contributing to the craft of storytelling.
Do you have any advice for new authors?
Keep working. Everybody sucks at first. Take your first 1-2 books and lock them away somewhere as "practice books."
What is the best advice you have ever heard?
Failure is not the opposite of success; it is part of success.
What are you reading now?
The Magician King by Lev Grossman.
What's next for you as a writer?
Keep writing. I need to finish up Book 2 of the Vampire Queen Saga so I can get to work on Book 2 of the Dark Elf War. Busy, busy, busy.
If you were going to be stranded on a desert island and allowed to take 3 or 4 books with you what books would you bring?
The Lord of the Rings (only counts as one), The Stand, Mort Castle's Writing Horror.
Author Websites and Profiles
William Stacey Website
William Stacey Amazon Profile
William Stacey Author Profile on Smashwords
William Stacey's Social Media Links
Goodreads Profile
Twitter Account