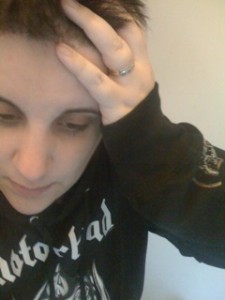 Tell us about yourself and how many books you have written.
I'm a full-time editor from England who writes at night and very rarely gets any sleep! I've written four novels, two of which are currently available from Carina UK and two of which are due for publication later this year.
What is the name of your latest book and what inspired it?
"White Lies" is due for release on 16th January, and it was inspired by my own experiences as a teenager.
Do you have any unusual writing habits?
I have to write in complete silence, I can't listen to music and often go as far as to write with earplugs in – I'm too easily distracted otherwise!
What authors, or books have influenced you?
Patrick Ness and Darren Shan are probably the two major influences, although I read anything and everything and all of it filters through and influences me in one way or another.
What are you working on now?
I'm currently working on a YA fantasy novel.
What is your best method or website when it comes to promoting your books?
I find it easy to find like-minded readers on Twitter.
Do you have any advice for new authors?
Never give up!
What is the best advice you have ever heard?
Everyone gets rejected. It's like a rite of passage. Enjoy it!
What are you reading now?
The Copper Promise by Jen Williams
What's next for you as a writer?
Getting my head down and finishing two unfinished novels. I also hope to start the search for an agent in 2016.
If you were going to be stranded on a desert island and allowed to take 3 or 4 books with you what books would you bring?
Louis Sachar's "Holes", Stephen King's "The Stand", Patrick Ness' "A Monster Calls" and Ken Follet's "Pillars of the Earth".
Author Websites and Profiles
Zoe Markham Website
Zoe Markham Amazon Profile
Zoe Markham's Social Media Links
Twitter Account