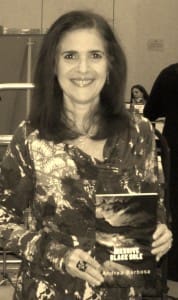 Tell us about yourself and how many books you have written.
I was born in Rio de Janeiro, Brazil, hold a Bachelor's degree in Tourism and I also took creative writing courses at Texas Tech University. I love to travel, read and write, and I currently maintain an Indie review blog. I'm also a contributor on Yahoo Contributor Network and Yahoo! Voices websites.
Massive Black Hole is my first novel, a literary general fiction/drama. I also love poetry and have just published a poetry collection, Holes in Space, featuring beautiful photography from friends.
What is the name of your latest book and what inspired it?
Holes in Space. It's a poetry collection. I was actually listening to the radio one day and someone was singing about holes in space – at least that's what I think I heard. I liked it, and I penned a poem called Holes in Space. Then, when it was time to give a title to the collection, I just picked it, it just sounded perfect for the book title as well.
Do you have any unusual writing habits?
Not really, can't think of anything bizarre that I do while writing.
What authors, or books have influenced you?
Brazilian authors Fernando Sabino (to whom I dedicated a poem in the last book), and Paulo Coelho are huge influences. I'm also a big fan of Joyce Carol Oates, Anais Nin, Anne Rice, Erica Jong. Books that influenced me or had a big impact are The Name of the Rose, by Umberto Eco, and the Unbearable Lightness of Being, by Milan Kundera.
What are you working on now?
I just finished the poetry collection, and I want to write another novel. I'm working on some ideas and have started the first chapter, and I also want to write a couple of short stories.
What is your best method or website when it comes to promoting your books?
I don't have a particularly best method. Still learning the ropes of promotion being an indie writer. It's very helpful to network on Goodreads and Facebook, and do promotional sales with Amazon Kindle Countdown deal, as well as use great sites like Awesomegang.com!
Do you have any advice for new authors?
Read and write, read and write, read and write and don't give up!
What is the best advice you have ever heard?
Whatever happens around you, don't take it personally… Nothing other people do is because of you. It is because of themselves.
by Don Miguel Ruiz
What are you reading now?
Indie books. I think it's important to see what's being published by so many talented people that are not being recognized yet.
What's next for you as a writer?
Write more, publish more, create more.
If you were going to be stranded on a desert island and allowed to take 3 or 4 books with you what books would you bring?
Either something I haven't read before, or a couple of classics -preferably the thick ones so I would have plenty of time to enjoy them.
Author Websites and Profiles
Andrea Barbosa Website
Andrea Barbosa Amazon Profile
Andrea Barbosa's Social Media Links
Goodreads Profile
Facebook Profile
Twitter Account
Pinterest Account