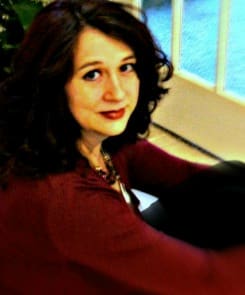 Tell us about yourself and how many books you have written.
I have a fantasy/ paranormal romance book published and a historical romance which will be released this Monday, July 29, 2013. I have written and completed eight novels and have five more in various stages of completion.
I have always been a storyteller. When I was younger, kids would come up to me asking what we were going to play that day. I set the characters and the plot. Once, I had us all pretend to be fighting Space Vampires. Of course, so the 'vampires' wouldn't bite us, I had their fangs be their first two fingers.
I am a wife, and a mom to three kids.
What is the name of your latest book and what inspired it?
Viking Fire. It was inspired by my great-grandfather's name of McLaughlin and I read that some historians say that it is derived from Lochlann which is the Gaelic word for Viking. And that this Viking married an Irish princess.
I changed the princess to a spoiled Laird's daughter and the characters did the rest.
Do you have any unusual writing habits?
I write whenever I can. Being a mom to three kids, I have little writing time. The good thing is, I never get writer's block, because I'm frantically trying to squeeze in time during the day (or night) and it lets my mind think up stories.
What authors, or books have influenced you?
Terry Goodkind's Sword of Truth series, Anne Bishop's Black Jewels series, and Kim Harrisons' The Hollows series have been a great influence on me. There are many more, but these are my top three.
What are you working on now?
I am working on the revisions of the 2nd book in my Garnet Dagger trilogy. It is called Son of Dragons and carries on where Brock and Celeste left off in the last book.
What is your best method or website when it comes to promoting your books?
My method is my website: http://www.andreaRcooper.com, Facebook, Twitter, Reviews, Blogs, and occasional PR.
Do you have any advice for new authors?
Read, everything. Good, bad – and know why you like it and why you don't. Take writing classes, join a critique group. And keep trying! If someone turns you down, move on. Read inspirational stories of writers (many famous ones) who were rejected multiple times.
What is the best advice you have ever heard?
Start with the action. Fill in the backstory little by little.
What are you reading now?
JR Ward's Dark Lover
What's next for you as a writer?
Since I have many people asking, to get Son of Dragons published before the end of 2013. I also want to finish some of my incomplete manuscripts.
What is your favorite book of all time?
The Sword of Truth by Terry Goodkind. Why? Because this book introduced me to the world of fantasy fiction and I have never turned away.
Author Websites and Profiles
Andrea Cooper Website
Andrea Cooper Amazon Profile
Andrea Cooper's Social Media Links
Goodreads Profile
Facebook Profile
Twitter Account
Pinterest Account