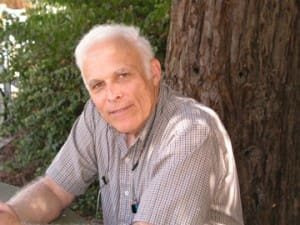 Tell us about yourself and how many books you have written.
Hi. By day I'm a Professor at Thee University of California Medical School at Davis. By night and weekend I write mystery stories. Presently there are four novels, two novellas, and an anthology of short stories available on Amazon Kindle featuring Los Angeles based P.I. Roger Bowman and his wife scientist Suzanne Foster. Most of the stories are set in South America, especially in Uruguay and the surrounding Mercosur countries. The most recent published novel, "The Deadly Dog Show", is a celebration of my wife Elaine's lifelong hobby of breeding and showing German Shorthaired Pointers. Currently in the oven and planned for an early 2014 appearance is another Roger and Suzanne mystery novel (#5 in the series) set in South America's Galapagos Islands, "The Origin of Murder".
What is the name of your latest book and what inspired it?
The latest book is an anthology of short stories in the Roger and Suzanne series, entitled "Five Quickies for Roger and Suzanne". The anthology contains two whodunit-type mysteries set in Los Angeles featuring Roger and Suzanne and another mystery featuring our detective couple investigating the murder of Suzanne's father in Salta, Argentina. There's also a short story about Roger's first case entitled "The Dog With No Name", featuring another German Shorthaired Pointer. Finally, there's a combination whodunit and ghost story set in Fortaleza, Brazil. This anthology is a great place to start reading the series because it introduces the reader not only to Roger and Suzanne, but also to several of the other recurring characters in the series. What inspired this book? I went through a phase of writing where it seemed appropriate to experiment with different lengths of story shorter than the conventional novel. These stories are the best of what came out of that phase.
Do you have any unusual writing habits?
Probably, but they seem normal to me. I've published over 200 scientific papers in my career so writing has been part of my life for a very long time.
What authors, or books have influenced you?
The California mystery writers of a long time ago: Dashiell Hammett, Raymond Chandler, and Ross MacDonald. The more recent California writers Michael Connelly and Robert Crais. Robert B. Parker (with a Boston-based P.I., Spenser, and a German Shorthaired Pointer named Pearl). A lot of others.
What are you working on now?
"The Origin of Murder", which is going through several rounds of editing. I'm also just starting to write the next book in the series, which seems to be heading towards Alaska as a place for the dead bodies to fall.
What is your best method or website when it comes to promoting your books?
I use Facebook a lot and I have a blog at http://rogerandsuzannemysteries.blogspot.com.
Do you have any advice for new authors?
Keep your day job!
What is the best advice you have ever heard?
That I should marry Elaine.
What are you reading now?
A mystery novel I downloaded from Kindle entitled "Unleashed". Perhaps you've guessed by now that I like dogs and dog stories.
What's next for you as a writer?
Several more Roger and Suzanne novels, I think. I like writing in the mystery series format.
If you were going to be stranded on a desert island and allowed to take 3 or 4 books with you what books would you bring?
An iPad with a very strong WiFi connection and an unlimited account on Amazon Kindle.
Author Websites and Profiles
Jerold Last Website
Jerold Last Amazon Profile