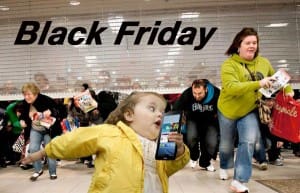 Do Black Friday Book Promos Work?
I have been getting a lot of emails asking if we are putting together a Black Friday Promo. The short answer is no when it comes to our site.
For the last 2 years we have had a few black Friday promo's for authors and to be honest they weren't as good as you would think. This is the reason you won't see us promoting any "special" Black Friday deals this year or any year after.
Some of the Reasons Could Be:
People are just not giving books as presents.
The price reduction isn't as big as the other deals.
People are not on their computer, they are out shopping at stores.
People are buried in Black Friday Deal emails.
When was the last time you gave a book to someone as a Christmas present? Odds are unless you and your family really love books I doubt getting a book as a present really doesn't excite anyone. Books just don't make "sexy" gifts. Yes getting a book as a stocking stuffer makes sense but no one shops on Black Friday looking for stocking stuffers.
Price Reductions Are Not That Large
The price reductions that are saved on books is way less a percentage than the items big box stores put on their merchandise. Kind of hard to get a book for $100 off compared to a new tv. Saving a few dollars on a book just doesn't equal the savings that shoppers are looking for.
A lot less people are online during the black Friday looking for books. They are out standing in line waiting for the stores to open. If they are home they are scanning the department stores websites looking to catch a bargain.
I am already seeing my inbox fill up with Black Friday deals. I know Amazon started early and so did a few other stores. We are now into stuff like Pre-Black Friday deals or even worse Black Friday week.
What Should Author's Do For Black Friday?
My advice would be to just go about your normal business and promotion channels and not get caught up in the hype. What are you going to do after sales don't add up on black Friday? Spend more for cyber Monday? It is just a dog chasing its tail at this point.
You could also take advantage of the sales and buy some stuff for an author's contest that you can bundle with your book. I am sure I will be getting some Kindles or other reading devices to have a contest with. I suggest you do the same.
Here is another great idea? Turn off the computer and write a chapter for your next best selling book.