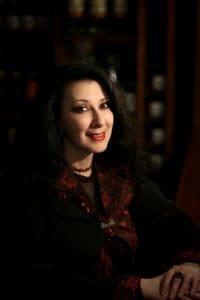 Tell us about yourself and how many books you have written.
I live in Guelph, Ontario, with husband Ron and four bun babies: Tegan, Pepper, Butters & Beckett. I was born in Bristol, Tennessee and graduated from Indiana University of Pennsylvania with a BA in English and an MA in Literature. Vampires have been a passion since age five. I hope to one day work full time as an author, since there are many, many books living insidemy head.In my spare time I enjoy watching Japanese Anime and reading vampire stories….along with other great fiction. I'm also very interested in good health and is an advocate of Ketogenic eating, using whole and natural foods. Future dreams include writing many more books, spending more time with my son, Jacob and sister, Susie. Currently, I have written and published one novel, Rising Tide: Dark Innocence, the first in a YA Vampire trilogy.
What is the name of your latest book and what inspired it?
My book is called Rising Tide: Dark Innocence and has a very strong, female, lead character named Maura. At first I dreamed of her a long, long time ago in college. She lived in my head for almost a decade, little details of her coming together over the years until she was like a real, living person I knew. I've dreamed of her a lot and her story just wrote itself in my head. I hope it all fits in the trilogy….that might grow into even more books! She has some very exciting and dangerous adventures to come.
Do you have any unusual writing habits?
Well, probably the most unusual habit I have is that I can't write in silence. I either have music or a scary movie on while I write. I know a lot authors play music, but sometimes a great zombie flick can be just as inspiring, playing in the background. I also love having my babies around me. Watching four bunnies play and come hop up on the couch for pets is definitely inspiring.
What authors, or books have influenced you?
I started writing my book in 2008 and hadn't read Twilight. A friend picked it up for me and I fell in love. Since my own book was about vampires, it inspired me very much. My vampires are very different, as is my main character, but just reading such a magical story made me want to write even more! I've also read almost everything by Anne Rice and she has been a huge influence. I even wrote a paper about her life in one of my University English courses.
What are you working on now?
Right now, I'm working hard on marketing my book. We have a book signing in Bristol, Tennessee where I was born, then two in May. One in my current hometown of Guelph, Ontario and another in Buffalo, New York. I'm also taking at least one day each week and working on book two in my trilogy. I always make time to write.
What is your best method or website when it comes to promoting your books?
I love Goodreads. I do a giveaway for my book on there every week and it gets it in front of a lot of eyes. Of course I'm very excited my book will be featured on Awesomegang, and can't wait to see it posted. I also have a blog tour coming up with Orangeberry on April 25th that coincides with a 99 cent promo I'll have running on my novel for five days.
Do you have any advice for new authors?
Yes! Never give up. Don't listen to the naysayers and don't let anyone get you down. Keep pushing every day. Make meaningful connections and never stop working toward your dreams.
What is the best advice you have ever heard?
Believe in yourself. It's so true because if you don't, no one else will. I put my whole heart into everything I do and just see a positive outcome in my mind at all times. Putting that positive energy out there definitely comes back to you in a big way.
What are you reading now?
I'm getting ready to go on a road trip and have On the Lips of Children by Mark Matthews on audiobook ready to go! I'm very excited about this one and can't wait to listen.
What's next for you as a writer?
Right now, I'm working on the next two books in my trilogy, Undertow and Riptide. I'm so excited because I've already had readers of Rising Tide beg me to hurry up and finish the next book. World's best compliment in my opinion! I've started several other books as well, one about a psychopath and the girl who survives him and another YA paranormal novel with a twist I haven't seen done yet (that I know of!).
If you were going to be stranded on a desert island and allowed to take 3 or 4 books with you what books would you bring?
If I were stranded on a desert island I would bring Twilight for sure, my favorite book of all time. My love for rabbits would drive me to bring Watership Down and rounding out the trio would be Anne Rice's Memnoch the Devil.
Author Websites and Profiles
Claudette Melanson Website
Claudette Melanson Amazon Profile
Claudette Melanson's Social Media Links
Goodreads Profile
Facebook Profile
Twitter Account
Pinterest Account