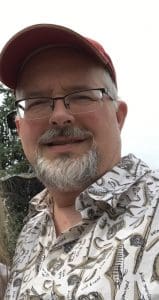 Tell us about yourself and how many books you have written.
I started writing when I was 13 years old and I must say I handled my rejection letter from Saturday Night Live better than most adults would have. I am quite older than that now and plan on aging backward at some point. I have published two novels at this time – In The End and Ancestry: Awakenings (Book 1). Two more books are in development for the Ancestry trilogy. I have several other ideas for books, but this full-time employment and two teens at home put a crimp in my writing time. I have written several dinner theater plays over the years and just finished a full-length stage played entitled Putting the FUN in FUNERAL. Cullen Kit Alexander is a pseudonym I use as a writer.
I have a background in mental health and live in Lexington, KY with my wife, two adolescent children, three cats, and two dogs. I have two older children who are travelers and enjoy seeing the world. I am close to retirement and plan on using what brain cells I have left to write before I fall prey to the frailties of aging or death invites me in.
What is the name of your latest book and what inspired it?
Ancestry: Awakenings was a book I actually started working on almost 20 years ago. I've always been fascinated with where I came from because of being adopted and I've always loved movies and books about magic and wizards. I combined that interest together. It took me 20 years and having a corgi to finish the book.
Do you have any unusual writing habits?
I like listening to my laptop read my writing back to me so I can hear how it sounds. The nonemotional computer voice drives everyone crazy that hears it.
What authors, or books have influenced you?
Dean Koontz has been the biggest influence. However, I read a lot of science fiction (e.g., Star Trek novels).
What are you working on now?
I am working on outlining Book 2 of the Ancestry series. The title is expected to be Ancestry: The Lost Magica. Most likely before I begin writing this book, I will finish the current play I am working on called The List which is about the friendship between an OCD professor who lives with his disabled Native American best friend and how he deals with his ex-wife who comes to visit him and dies.
What is your best method or website when it comes to promoting your books?
I have to say Facebook has been fairly good and some promotions in Amazon.
Do you have any advice for new authors?
Keep faith. Eventually, someone will buy your book and you will get some notice.
What is the best advice you have ever heard?
Tackling something is like eating a frog. You may not like it, but eventually, you get it all down by eating one piece at a time.
What are you reading now?
Harry Potter and the Cursed Child
What's next for you as a writer?
Another play … Another book.
If you were going to be stranded on a desert island and allowed to take 3 or 4 books with you what books would you bring?
All the Harry Potter series
Any of the Dean Koontz books
All of Christopher Paolini Inheritance series
Author Websites and Profiles
Cullen Kit Alexander Website
Cullen Kit Alexander Amazon Profile
Cullen Kit Alexander's Social Media Links
Facebook Profile
Twitter Account