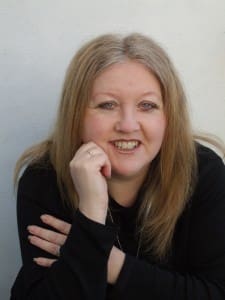 Tell us about yourself and how many books you have written.
I live in Surrey, Uk in a rambling Victorian house with my non-writer husband and boisterous staffy, Buster.
I have written three other books which are published on Amazon and various other sites. The first book, Aggie Lichen; Pilp Collector is followed by Arty's Revenge then Hero Required.
What is the name of your latest book and what inspired it?
The latest book is a YA paranormal novel called 'Marvin's Curse'. I have been inspired by many YA books, mostly to do with fairies and angels, not psychics and ghosts, which is what my book is about. I think that in many ways I wanted to come away from vampires and werewolves too and so looked for something different. I have been told that it reminds people of 'The ghost of Thomas Kempe' by Penelope Lively. I don't know as I haven't read it – perhaps I should…
Do you have any unusual writing habits?
Er, depends on what is unusual… Writing while watching T.V., scribbling in the car (obviously not while driving!), waking up and scribbling on pad by the bed. No, perfectly normal habits for a writer…
What authors, or books have influenced you?
Herbie Brennan (Faerie Wars) is my hero. I loved his faerie books so much. He very kindly gave me a wonderful quote for my first book after reading it himself.
J R R Tolkein – what's not to like here. Probably the start of my love affair with fantasy.
What are you working on now?
I'm Working on 'Rae Gandos – Dragon Slayer' at the moment. It's a YA book which is a cross between The Hunger Games and Buffy the Vampire Slayer !? Only into chapter two at the moment, but loving every minute of writing it!
What is your best method or website when it comes to promoting your books?
I think you have to get to as many websites as possible that promote books. Obviously, this one is a great place to start! That's why I'm here! Also, look for book blogs to review your work as that is sooo important.
Do you have any advice for new authors?
Keep everything you write – seriously. You just never know when you're going to dig up that character you threw away last year. Also, back things up (er, not like me and have everything on one stick) memory sticks etc. Keep going – how many times do we hear that, but it's true. If your book is good it will sell, simple!
What is the best advice you have ever heard?
Keep writing and don't give up.
What are you reading now?
I'm reading The Iron Knight by Julie Kagawa. It's the last of four in the Iron Fey series and I shall be sad to see the end of the characters when I finish the book.
What's next for you as a writer?
To continue with my new book and to carry on with promoting the latest book out, 'Marvin's Curse' on different sites and blogs.
What is your favorite book of all time?
Lord of the Rings! All three. Has to be!
Author Websites and Profiles
Debra J Edwards Website
Debra J Edwards Amazon Profile
Debra J Edwards Author Profile Other Bookseller
Debra J Edwards's Social Media Links
Goodreads Profile
Facebook Profile
Twitter Account