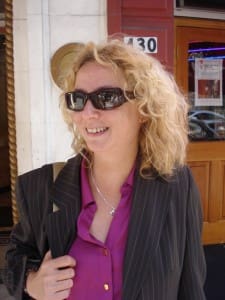 Tell us about yourself and how many books you have written.
I was born in Athens, Greece in 1968. Ever since I was a little girl I wanted to do two things in my life: to become a lawyer and to write. I feel very lucky as I managed to do both of them. I always remember myself writing something but to actually try to publish something of my own was rather a stressful though for me. So I started by translating books of others. I have translated four books from English into Greek, all of them were books by a very talented authoress that I simply love, Jennifer Lash. London Tube seven stations seven stories is the first book of my own.
What is the name of your latest book and what inspired it?
The title of the book is London Tube seven stations seven stories. As you can understand from the title I was inspired by the London tube. I was fascinated by it from the very first time I used it when I first came here as a tourist. Since then I read a lot of books about its history and the thought of how many people use it in a daily basis and how it could affect so many lives in different ways all through the years made me think about writing the stories.
Do you have any unusual writing habits?
I think that like most writers I prefer to be alone, to have piece and absolute silence in order to enter my imaginary world and start putting it on paper. I prefer to write at night. I always keep a notebook with me scribbling down thoughts and ideas that I might find useful later.
What authors, or books have influenced you?
Literature has always been a passion of mine, so I guess I have been influenced by many authors. It is very difficult to write specific names, I guess I was influenced by each one in different ways. Some of them that really helped me in my attempts to write are: of course Jennifer Lash because by translating her work I got the strange feeling that I was sharing her thoughts and ideas. Another one is the Greek author Karagatsis who is one of my favourite writers. Of Charles Dickens whose sensitivity and tenderness have really influenced me. Jonathan Coe with his unparalleled imagination. Jack Kerouac because of his way of describing the road trip to freedom. Costas Tahtsis because of the strength of his emotions in his books.
What are you working on now?
I am working on a historic novel that combines Eastern and Western history. I am also writing on a weekly basis different articles mainly about history and culture in the blog Imerologio Apodimias ( Diary of Immigration). And I am also writing texts for the programmes of an amateur theatrical company.
What is your best method or website when it comes to promoting your books?
I have always thought that the best promotion for anything but especially for books is a good critic from someone who has read it to his friends. In nowadays with the development of technology these opinions can travel really fast by facebook, twitter and other social websites. Facebook for me it is a very good way to advertise my book.
Do you have any advice for new authors?
Keep writing indifferent of any negative thoughts, fears, obstacles etc. If you feel that you want to express your feelings through writing, just do it.
What is the best advice you have ever heard?
There was always be somebody out there to read your thoughts.
What are you reading now?
The wooden walls by Maria Lambaridou Pothou, it is a book about the Hellenic- Persian wars in 480 BC.
What's next for you as a writer?
When I will finish the historic novel, I would love to write something more contemporary, I have plenty of ideas that haven't been shaped yet.
What is your favorite book of all time?
Difficult question, there are so many. I am trying here to name only a few: A tale of two cities by Charles Dickens, On the road by Jack Kerouac, To kill a mockingbird by Harper Lee, Sergios and Vachos by Karagatsis, The third wedding by Costas Tahtsis, House of spirits by Isabelle Allende, Martin Eden by Jack London.
Author Websites and Profiles
Evi Routoula Amazon Profile
Evi Routoula 's Social Media Links
Facebook Profile