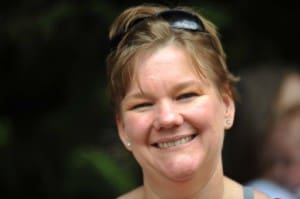 Tell us about yourself and how many books you have written.
I am an Accountant who lives on the East Kent coast in the UK.
I have 'won' NaNoWriMo in 2013 and 2014. I have published a collection of short stories called 'So the feeling shows', a novella called 'April Fool', which came about during the 2014 April A to Z challenge, and my 2013 NaNo winner a novel called 'Stripper of the Yard'.
What is the name of your latest book and what inspired it?
My latest book is Stripper of the Yard. I have had the story in my head for a number of years. It is a cross between the James Patterson Women's Murder Club and a nineties TV programme shown in the UK called Band of Gold. I finally managed to get it out of my head and onto paper during the 2013 NaNoWriMo. It took me a further year to edit it and turn it into a finished product which I am now very proud of.
Do you have any unusual writing habits?
I like to write early in the morning and tend to get up and hour before I need to. This is probably not unusual and I would suspect most writers who still have a day job have to write either very early or very late in the day.
What authors, or books have influenced you?
I love the style of James Patterson and Jasper Fforde but I think I have been most influence by the huge number of indie authors out their proving you can do it by yourself.
What are you working on now?
I am currently editing my 2014 NaNoWriMo winner ' Who's the Daddy'. It's the story of an East End gangster and his wife, and his mistress. When the wife tells him she's pregnant when she isn't and the mistress gets pregnant when she doesn't want to be things start going wrong.
What is your best method or website when it comes to promoting your books?
I am still looking for an effective way to market my work as I don't make enough money to pay for a service. I have an author's page on Facebook and promote myself through twitter.
I am looking into advertising through amazon but think it will need a larger budget than I can afford.
Do you have any advice for new authors?
Make sure the end product is as professional as you can make it. If you can afford professional help, get it and get a cover than does your story justice.
What is the best advice you have ever heard?
Write what you would want to read.
What are you reading now?
I am currently reading Toxic by Jamie Doward. It's the story of a murder on a derelict Kent beach and how it links into a bank set up by the CIA and an Islamist plot to bring down the banks so they can't be saved.
What's next for you as a writer?
I am going to work on my memoir next. I have recently had some health issues and I am about to have a larynjectomy. It has been very cathartic to write about the process and hopefully it will be helpful for others going through the same thing.
If you were going to be stranded on a desert island and allowed to take 3 or 4 books with you what books would you bring?
A Day in the Life of Ivan Denisovich by Alexander Solzhenitsyn
Down and Out in Paris and London by George Orwell
1Q84 Books 1-3 by Haruki Murakami
Author Websites and Profiles
Jo Jenner Website
Jo Jenner Amazon Profile
Jo Jenner's Social Media Links
Goodreads Profile
Facebook Profile
Twitter Account