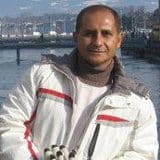 Tell us about yourself and how many books you have written.
I have written two books. The first, The Little Book of Muses, is a collection of original inspirational phrases.
This eBook is an inspiring read to influence daily writings and enriching one's work — a good-feel guide to make a writer feel passionate and motivated about their craft.
Some of the phrases will tickle your funny bone while others offer nuggets of wisdom condensed into a few lines.
The second, Smokescreen, is a fast-paced thriller that is due next year. It was acquired by a publisher. The novel ushers us into a world of global intrigue and sinister, far-reaching alliances between the US, Israel, and Singapore.
What is the name of your latest book and what inspired it?
The Little Book of Muses. I have a habit of day dreaming, and one day, I decided to tweet some of it. I started getting more followers and someone suggested that I compiled them into a book, which I did. Readers will find them quirky, funny, clever and inspirational.
Do you have any unusual writing habits?
I like to travel and explore places, and soak in the moment. If there's something that appeals to me, like a place, I try to work it into a scene. I don't have a particular time when I write. I just write whenever I feel like.
I am not one who writes based on a number of words in a day. After all, it's going to get edited, and you'll lose chunks of what you've written. I try to visualize the scene in my mind thoroughly and then produced what I am thinking.
What authors, or books have influenced you?
Oh, so many, as a kid, I enjoyed reading Enid Blyton and Alfred Hitchcock's The Three Investigators, and Franklin. W Dixon's Hardy Boys series. As an adult, I would read cross-genres from literature to thrillers. I also like reading foreign books.
What are you working on now?
I am working on the second volume of my book of phrases. At the same time, I am also working on my second thriller novel, which is set in Europe.
What is your best method or website when it comes to promoting your books?
I am still exploring. This social media thing is new to me, so I'll take it one day at a time.
Do you have any advice for new authors?
Don't quit.
What is the best advice you have ever heard?
Good writing is rewriting.
What are you reading now?
Snow Escape by Roberta Goodman.
What's next for you as a writer?
I'll follow where life takes me.
What is your favorite book of all time?
To Kill A Mockingbird by Harper Lee. I must have read it at least 15 times.
Author Websites and Profiles
Khaled Talib Amazon Profile
Khaled Talib's Social Media Links
Goodreads Profile
Facebook Profile
Twitter Account
Pinterest Account