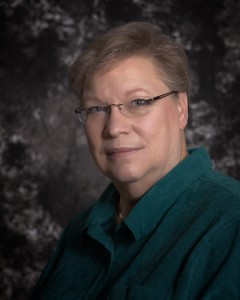 Tell us about yourself and how many books you have written.
At the age of ten months, my mom and dad moved our family from Milwaukee to a town not too far away with a whopping population of 1000 people. Our party-line phone number was 52 and my sisters and brother and I walked the mile and a half to school each day. I've basically been a small-town girl all my life, partly because my husband likes the peace and quiet of a small-town setting.
I graduated from WSU Stevens Point with a major in English, a minor in psychology, and a B.S. in Secondary Education. After deciding teaching wasn't for me, I worked as an executive secretary before I met and married my husband Denny. Now we have two, terrific grown kids, Kathy and Jeff, who put up with us and make us proud.
There are roughly one hundred short stories in my files, and in 2005 I wrote Flight 419, a one-act play, which was produced and performed by Darknight Theatrical Productions in Chicago, Illinois. Since then I contributed five short stories to a ten-author anthology titled Mosaic: A Collection of Short Stories.
Since then, I've become an Indie author. To date I've written two in a series of mystery/police procedurals. The third in the series is underway.
What is the name of your latest book and what inspired it?
My latest book Shadow Tag, a mystery/police procedural, has just been released. It's the second in my Ray Schiller Series. I guess you could say Dear Crossing, the first book in the series, is what inspired Shadow Tag. The main characters, and even the less prominent ones, are so multi-dimensional and the possibilities so endless, it seemed natural to provide a new stage for their continuing performance.
Do you have any unusual writing habits?
It may not be unusual, but I don't outline my stories. On the other hand, I have to know how it begins, the approximate direction it will take, and how it's going to end before I even write the first sentence. I'm not a fast writer for the simple reason that, despite the admonition that a writer should write every day, I don't. I seldom stop thinking about the story, but if I have to force myself to sit in front of the computer, the results are rarely what I want to see.
What authors, or books have influenced you?
The list is pretty long-ranging. Authors: Ernest Hemingway, Dean Koontz, Peter Benchley, Stephen King, Tami Hoag. They're on my short list.
What are you working on now?
Right now I'm working on the third novel in my Ray Schiller Series. The title has already changed four times, but the current working title is Death Penalty. I already feel guilty for what I'm going to put Ray through this time.
What is your best method or website when it comes to promoting your books?
I try to do a little of everything: social networking, Goodreads, helpful promotional sites like Awesomegang, Twitter, doing interviews, giveaways, even a blog site, which I neglect terribly. Variety keeps it more interesting.
Do you have any advice for new authors?
Don't give up! That's it–short and simple. If you need prodding, and even if you don't, try to find a good writing critique group. That will work wonders.
What is the best advice you have ever heard?
Silence is the friend of the fool. — Sir Francis Bacon
What are you reading now?
Spilled Blood by Brian Freeman.
What's next for you as a writer?
I'm starting to participate in more library events and book signings to promote Dear Crossing and Shadow Tag. Beyond that, I have an idea for Ray Schiller's fourth case.
What is your favorite book of all time?
A lot of books popped into my head with that question, but the one that sort of came to mind first was Immoral by Brian Freeman. So many are neck-and-neck.
Author Websites and Profiles
Marjorie Doering Website
Marjorie Doering's Social Media Links
Goodreads Profile
Facebook Profile