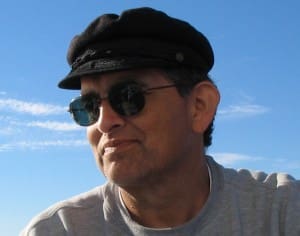 Tell us about yourself and how many books you have written.
Bikini Baristas is the fourth book in the Ted Higuera Series. The Cartel Strikes back, the fifth book, will be out this spring.
I also have two books in the Catrina Flaherty Mysteries, with a third book due out this summer.
Blue Water & Me and Christmas Inc (an Amazon #1 bestseller) are stand alone books.
What is the name of your latest book and what inspired it?
The Cartel Strikes back is the fifth book in the Ted Higuera Series.
I can't make this stuff up. The Cartel was inspired by the news events reported every night about the drug wars in Mexico.
See if you recognize the story.
Do you have any unusual writing habits?
What's unusual. I get up early and write for about four hours before breakfast. I return to my office after breakfast and write for about four more hours.
Does that count as unusual?
How about the fact that The Inside Passage, Hacker for Hire and The Mexican Connection were written at the mess table of my 56-foot sailboat as we cruised down the Mexican coast. How many writers can say that?
What authors, or books have influenced you?
There's so many it's hard to list them all.
Let's start with Edgar Rice Burroughs. I read all of his books when I was a teenager and loved them. Much of my writing style is a poor imitation of his.
Elizabeth George is a big influence. In her Inspector Lindley series, you care more about the characters and how their lives are evolving than you do about who done it.
Next up is Robert Ludlum. No one can write an action scene like he did. Don't believe me, read The Bourne Identity.
What are you working on now?
The Cartel Strikes Back is due out this spring. It's a follow up to The Mexican Connection.
At the end of The Mexican Connection, one drug lord is dead and the other rotting in prison.
In The Cartel Strikes Back, the drug lord escapes and plots his vengeance. SPOILER ALERT: Ted proposes to Maria, but I won't tell you how that comes out. I guarantee you, you won't guess the ending.
What is your best method or website when it comes to promoting your books?
BookBub is by far the best way to promote my books, when they will accept me. They get so many requests that they are picky about who they promote. I've heard that they only take about 20% of the books submitted to them.
Do you have any advice for new authors?
In Winston Churchill's immortal words "Never give up."
Your path will be filled with obstacles. Your mission, should you decide to accept it, is to find a way over, around or through those obstacles.
Never let anyone tell you you can't do it.
What is the best advice you have ever heard?
My father used to tell us "A Wallace never says can't." As a matter of fact, I got more than one spanking for saying I couldn't do something.
What are you reading now?
Steven King's On Writing.
What's next for you as a writer?
I have a new Catrina Flaherty Mystery up next. Then the sixth book in the Ted Higuera Series. I left too many loose ends hanging in The Cartel Strikes Back not to follow up on them.
I have a couple of other characters I'd like to write about. Maybe next year.
If you were going to be stranded on a desert island and allowed to take 3 or 4 books with you what books would you bring?
Lonesome Dove by Larry McMurtry.
Night Over Water by Ken Follett.
Can I take the whole Aubrey/Matrin Series as a single book?
Oh, and, of course, the complete Sherlock Homes tales.
Author Websites and Profiles
Pendelton Wallace Website
Pendelton Wallace's Social Media Links
Goodreads Profile
Facebook Profile
Twitter Account