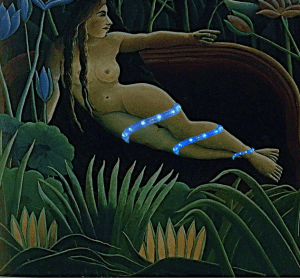 Tell us about yourself and how many books you have written.
My first novel was published a few months ago by HarperCollins – amazing. It spent 7 days on the kindle uk free bestseller list at no.2 in erotica and around the no. 50 mark in kindle store overall. My mind shorts out when I think of all the people who must have downloaded it. Many reviews on Goodreads in a very short time. Some wonderful, others not so much…
What is the name of your latest book and what inspired it?
'Out of the Shadows and into the Darkness' by Senta Holland, published by HarperCollins. It is the story of Senta, a thirty something Londoner, who travels round the world to find the lover of her dreams. this is made more difficult and more exciting by the fact that Senta lives and loves in the dark and sometimes heart breaking world of BDSM, and the man she's looking for is her dream Dom.
This book is very real, authentic, raw. It is also written in a literary style that goes beyond the usual 'romance' books (and indeed many reveiwers have said that it should be classed as 'literature').
'It's not a novel, it's an experience…'
The book was inspired by love.
Do you have any unusual writing habits?
I don't know if it is unusual but I've written almost all my books mostly in coffee shops. I feel inspired by sitting among other people who are also writing something. My ideas flow more smoothly and easily than when I am alone. I do edit alone though, that's a more left brain activity and much much easier than getting out the original material.
What authors, or books have influenced you?
Too many to list.
What are you working on now?
My next big novel – with a cast of thousands, 4 different perspectives and at least 4 huge volumes. Diversity!
What is your best method or website when it comes to promoting your books?
Goodreads is the best website for me. Best method is to be on it all the time (if you can…)
Do you have any advice for new authors?
No. I can tell you what I do: I write at least 5 days a week. And I allow myself to write 'badly'. No idea if that works for you, though.
What is the best advice you have ever heard?
Don't listen to other people's advice. When people give advice, they don't talk about you, they talk about themselves. Don't let yourself be held back by other people's fear. Go as you far as you can go. What are you waiting for?
What are you reading now?
'The Bride Stripped Bare' by Nikki Gemmell
What's next for you as a writer?
I am writing a completely different book now – about the big public issues in society rather than a love story about two people . But ultimately, the same themes come up: freedom, dreaming, identity.
What is your favorite book of all time?
'The Waves' by Virginia Woolf
Author Websites and Profiles
Senta Holland Website
Senta Holland Amazon Profile
Senta Holland's Social Media Links
Goodreads Profile