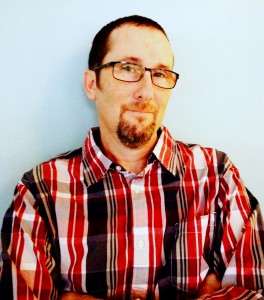 Tell us about yourself and how many books you have written.
I live in north central Illinois though I did 8 years in Tucson and another 8 in Austin. I'm a software engineer by profession though I'd really like to change that to full time author. I'm married to a wonderful woman and have two slightly insane children and one neurotic golden retriever. I have always had to have some creative outlet in my life and this has ranged from my first horrid attempt at a novel when I was 12, to poetry and literary short fiction right after my first stint in college, a few years playing rhythm guitar in a band and now I've returned to writing with a vengeance.
At this time I've got one book published, another in a hefty rewrite and cleanup and three more in various stages of completion.
What is the name of your latest book and what inspired it?
My novel is called Waking Dreams: The Torment of Colin Pierce. As with nearly everything I write it was inspired by a scene that played out in my head while running with music blasting in my headphones. The scene was one where a boy dreams of a house fire and when he wakes up he's covered in burns. I've always had a fascination with dreams. It's not really the hidden meanings of dreams that capture my attention. It's how the mind stretches to create and live in the small, temporary realities we create while we dream. The mechanics of how dreams work, how we perceive them and how they affect us. I think one of my favorite dream mechanic is when you're dreaming along a storyline and all of a sudden everything changes and your sleeping mind has to backtrack and change the history of your dream to account for huge shifts in context. One minute you're flying in an airplane talking to an ex-lover wistfully, and the next you're is school being chased by zombies. The transition feels smooth and it's not only you wake up that things seem ridiculous. Someone once said that fiction has to make more sense than reality, and the marriage of dreams and fiction feels like a wonderful setting.
Do you have any unusual writing habits?
Nothing really unusual I suppose. I write everyday for at least an hour, sometimes more. I use a MacBook Pro and story board with post-it notes on a huge whiteboard. I like to write in coffee shops with my headphones on blaring out something raucous and emotional–the louder the better. I do my best thinking while either driving or running.
What authors, or books have influenced you?
My two favorite authors are Charles DeLint and Neil Gaiman. They represent what I strive for in terms of the simple act of creating a story. Both authors are masters at introducing magic and mystery into the world we actually live in. They create worlds that exist within our world and that gives the reader this feeling that he or she could actually see or visit that world–it's not completely out of reach. I also read a lot of other things. I love space opera–David Weber is my guilty pleasure there. I enjoy all the usual epic fantasy writers, especially Brandon Sanderson. I also have enjoyed the early and latest works of Neal Stephenson.
What are you working on now?
My current novel, The Scary Girls, is about a young guitarist that through a chance meeting with 4 mysterious and slightly scary women is introduced to a world that exists within the one he has always lived in. It is a world populated by monsters, myths and magic and it lurks just out of sight of the real world. He joins a band with the Scary Girls and is set on a path of self discovery and exploration. Music and magic lead him to a shocking discovery about who he really is.
What is your best method or website when it comes to promoting your books?
I use Facebook, Twitter, Goodreads and my own website. So far Goodreads and Facebook have been my best points of exposure.
Do you have any advice for new authors?
Build the habit of writing often and on a regular schedule. Define your ideal working environment. Go to that place and keep your habit alive. Stopping is the enemy. Don't be afraid to table something if you're stuck. Come back to it a few days or weeks later and in the meantime work on something else. It's all about momentum.
What is the best advice you have ever heard?
My short fiction teacher at the University of Illinois, Jean Thompson, once told me that all good writers have one thing in common–they all have a builtin bullshit detector. You have to be able to look at what you've written and identify what is bad. Often it's the very parts you love the best and it's hard to look at those things objectively.
What are you reading now?
I'm in the middle of a few things. NOS4A2 by Joe Hill, REAMDE by Neal Stephenson and the second Sandman Slim book by Richard Kadrey. I've got other things in various stages of read but those are the ones that are sitting closest to my hands. I also read some non-fiction and right now that includes On War by Carl Von Clausewitz and The Physics of the Future by Michio Kaku.
What's next for you as a writer?
I really want to get a couple more books on my list of published works. I'm fighting for exposure at this point. Marketing the first book, working on the current one, and planning the third. Juggling. I am working hard to change careers to be a full time writer.
If you were going to be stranded on a desert island and allowed to take 3 or 4 books with you what books would you bring?
I'd bring:
Someplace to be Flying by Charles De Lint
American Gods by Neil Gaiman
Interface by Stephen Bury (Neal Stephenson)
The Way of Kings by Brandon Sanderson
Author Websites and Profiles
JD Kaplan Website
JD Kaplan Amazon Profile
JD Kaplan's Social Media Links
Goodreads Profile
Facebook Profile
Twitter Account