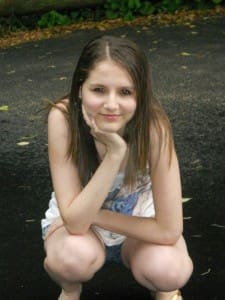 Tell us about yourself and how many books you have written.
I am a paranormal, gothic-horror author. Most of my writing is in the YA genre, although I have only published one book. It is called The Rift and is the first in a three-book series called the Vessel of Souls. When I am not writing, I am a part time baker and a part time college student who still has yet to decide on a major.
What is the name of your latest book and what inspired it?
My latest book is called The Rift and it was inspired by a number of things. There were two main inspirations for it. The first was the idea of a relationship between the angel and death and a normal person or perhaps a person who seemed normal. The other was a strange sleep disorder I read about called sleep paralisis. This is a condition where someone is "awake in the dream world", so to speak. It is essentially the colliding of two different worlds; one real and one a dream. The people who suffer from this have a hard time knowing when they are dreaming and when they are awake.
Do you have any unusual writing habits?
I think my most unusual writing habit is to write every book first as a movie script. I like to imagine what it would look like acted out and I write down what the lines would be and what the actions would be. I have never come across anyone who wrote like that so I think it is pretty unusual.
What authors, or books have influenced you?
Definately Edgar Allan Poe. He has been my favorite author for a long time. I am always reading quotes and stories by him to draw inspiration from.
What are you working on now?
I am working on the second book in the Vessel of Souls series. It is called The Deceived and has grown very dark and slightly disturbing through the course of editing.
What is your best method or website when it comes to promoting your books?
I think goodreads is the best website I have come across for promoting my books. It allows the authors to connect directly to the readers.
Do you have any advice for new authors?
Never give up just because you feel discouraged. Every author has a place in the literary society; you just have to find yours.
What is the best advice you have ever heard?
As cliche as it sounds, the best advice I have ever heard is to believe in yourself. A lot of times you will be the only one to believe in yourself, but if you can do that, other people will start to believe in you.
What are you reading now?
I am reading Black Sun by Mark Carver
What's next for you as a writer?
Next for me is to finish up a fantasy book I am collaborating on with quite a few other authors. It will be a few ebook on smashwords when it is done.
What is your favorite book of all time?
I can't say I necessarily have a favorite book. I have a lot of favorite books. The Harry Potter series, The hunger Games, The House on Blackstone Moore, I could keep going for a long time.
Author Websites and Profiles
SKN Hammerstone Website
SKN Hammerstone Amazon Profile
SKN Hammerstone's Social Media Links
Goodreads Profile
Facebook Profile
Twitter Account
Pinterest Account