The other day on our Facebook authors group we were talking about using social media to get more people to your book signing. I asked how many people used Twitter to find people that may be interested in your book and may come to your book signing. I was surprised no one had used Twitter for this. Consider this a guide for you just change out the city and use your own.
I am going to assume that you already have a Twitter account. If you don't go to Twitter and sign up. This will work best if you have a few weeks before your book signing and I promise it won't take much time.
Ready! Set! Go!
OK the first thing we have to do is find out if the bookstore or wherever you are signing books has a Twitter account. When you find that account go and follow all the people that have tweeted at the bookstore recently. In this example I am going to use New York City.
Lets say I am signing at St Marks Books. A nice book store in Manhattan. I find their Twitter account which is @stmarksbookshop. Right now they have 1400 followers. Hmm 1400 people that are already fans of the bookstore. I am sure they would be interested in coming to a book signing in a store they like already. I go and click on their followers and follow them all if I have enough room in my Twitter account without hitting the limit for the day.
If you don't have enough space and only want the serious followers I usually follow only the people that have tweeted out about the store or had some recent interaction with them. This way I don't get their followers that haven't been on Twitter in a while. You do this using the Twitter search box with the @ symbol and their twitter account.
Since we are following the bookstore where your signing will be send them a Tweet, something like this. "I am excited to be coming to your store to sign books on (include the date and time)". Their followers will be familiar with you by the time the signing happens. I would tweet this once a day myself.
Another thing I would do is find their Facebook page and post a "Looking forward to signing books at your store." In this case St Marks has 5000 fans so that is the place I would be marketing also. But Facebook marketing is for another post. You can take some of these methods and apply it to Facebook if you have time.
Rinse and Repeat This Method
St Marks is in the East Village so the next thing I would be doing is look for popular Twitter accounts in the Village. Lets see the first thing that pops in my mind is the newspaper "The Village Voice. In this case I am going to follow everyone that the Village Voice follows which is mostly staff. I will also look for other people that may be local in their followers list and follow who they are following.
I just noticed they are following reporters that are also near the East Village, Sweet that is a home run. They are also following a popular East Village website NSAYEastVillage. I will go through their followers and also email the site and alert them to the book signing. They also have 6000 people on their Facebook so I would make a post there too.
But Vinny I Don't Have These Huge Resources.
I realize that NYC is huge and has a lot of resources that some other cities don't have but I am only using the East Village section so in a way it is a small town. I want you to pull up a map of the address where you are doing the book signing. Here is a map where St Marks Book Shop is.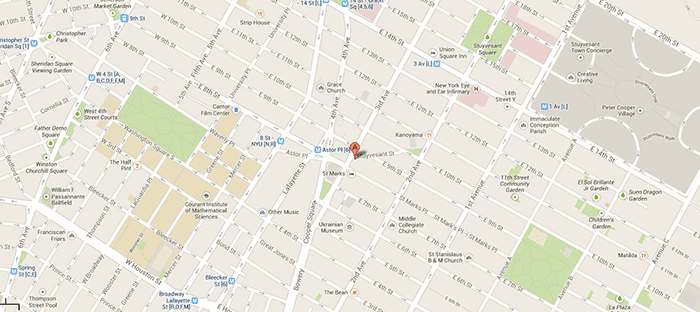 If you look closely on the map you will see about 20 locations that are near the book store. I see three or four churches, a few restaurants, a few parks. There are even a few schools, last time I looked there were teachers that read there. Using your local map search for their website and/or Twitter account. If your local Starbucks has it's own Twitter account that is a good place also.
You can find the popular places in your town by finding the Twitter accounts for
Chamber of Commerce
Local Radio Station
Local Newspaper
Neighborhood stores
The Mayor or local politicians
Police or Fire Stations
Local TV News Station and/or popular anchors
Local Parks
Do the same thing we did with the other accounts. I personally like using the @symbol in searches so I get the most recent people in my searches. I have found this works better.
Between all these accounts your book signing should be a major success. After the end of the book signing I would also contact as many people as possible thanking them for their help getting the word out.
While you are doing all this Twitter following why not follow me https://twitter.com/ourawesomegang.