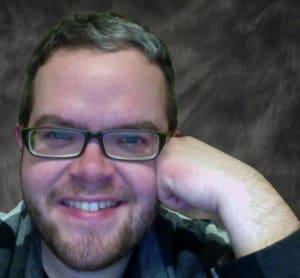 Tell us about yourself and how many books you have written.
My name is Dan. I'm an author and musician living in Portland, Oregon. I also have a career in IT, in which I resolve escalated technical issues for a non-profit in the education sector. I just wrote my first book, a dystopian cyberpunk novel.
What is the name of your latest book and what inspired it?
My latest and first book is titled *The Lightcap*. One of the plotlines in the book involves a device (the Lightcap) that is touted as a way for employees to experience less stress from their workdays. You put on the Lightcap when you come to work, then take if off when you leave for the day. You remember nothing that happened while you were wearing it, so there's no way a bad workday can cause anxiety. The idea was inspired by a really bad day at work, fittingly enough.
Do you have any unusual writing habits?
I don't think so. I typically sit at the kitchen table and write. Sometimes I'll go to a coffee shop, but the cost of doing that can add up.
What authors, or books have influenced you?
L'Engle, Asimov, Clarke. Those were huge influences on me as a kid. Later in life, Stephenson, Gibson, Kafka, PK Dick. Outside of scifi, I loved the Harry Potter books. Even though they're YA, I found the character development to be rich and the world building very thorough. I am in awe of Rowling's ability to create thousands and thousands of pages of enthralling material.
What are you working on now?
I'm working on marketing *The Lightcap*. I've never done this before, so I'm learning as I go. I'm also working on my next book, a zombie apocalypse novel told from the perspective of a preacher's kid.
What is your best method or website when it comes to promoting your books?
I hang out on Facebook, Goodreads, and Kboards quite a bit.
Do you have any advice for new authors?
Your book won't write itself. Write even when you don't feel like it. You'll thank yourself later. Take pride in your work and don't let people read it until you've had *someone else* edit it.
What is the best advice you have ever heard?
"Even if you are the worst writer in the world, at least you'll have the evidence." -Padgett Powell
What are you reading now?
Sisyphus Shrugged, by my friend and editor Robert Peate. (http://www.sisyphusshruggedbook.com)
What's next for you as a writer?
A zombie book and then a sequel to *The Lightcap*. I don't have anything set in stone after that, though I've got a number of ideas written down that have some potential.
What is your favorite book of all time?
This is always such a hard question to answer! I'm going to go with *1984*. I've read at least 20 times and it never gets old.
Author Websites and Profiles
Dan Marshall Website
Dan Marshall Amazon Profile
Dan Marshall's Social Media Links
Goodreads Profile
Facebook Profile
Twitter Account