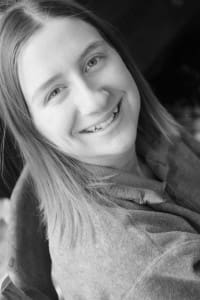 Tell us about yourself and how many books you have written.
I am the second youngest of six children, and have always loved being part of a large family! I work as a Veterinary Assistant, and love being able to help animals. My favorite hobby is horseback riding, and I have a horse named Rory (she came with the name, probably not one I would have chosen) I have been writing since my Freshman year at Wisconsin Lutheran College. I have written 8 novels including the two I currently have published, and one I wrote as my undergrad research project. The two I have published are Tracker and Kindred, the first books of the Earthshaker Series.
What is the name of your latest book and what inspired it?
The most recent book I'm working on is Hunter, and it is the third book of my series. I get my inspiration from all over the place. People I know, books I've read, tv shows and movies I've seen, and sometimes they mix together to make a fun story.
Do you have any unusual writing habits?
I've never been able to plan out events in my books. My writing has always been kind of a free-flow thing. Every time I've tried to plan, it ends up completely different than I intended it. I also need some kind of background noise to get into writing. When I was in college I listened to a lot of music by Josh Groban. Now I turn on cartoons as background, and that seems to work pretty well.
What authors, or books have influenced you?
I'd have to say Kay Hooper, for the Noah Bishop Series, influenced parts. I have also been writing in the first person which was influenced mostly by Rob Thurman and Jim Butcher. Love all of them!
What are you working on now?
I am working on editing Hunter: Earthshaker Series book 3, and also working on marketing Tracker and Kindred, the two I already have published.
What is your best method or website when it comes to promoting your books?
I have used quite a few Facebook Groups, Google+, just joined Twitter, and I have a blog and a Facebook page. My books haven't been out very long, so it's hard to say what works the best, but I'm going to do kind of a cop out and say that having a wide variety of areas to promote your work is the best. Any one way isn't going to do it on it's own.
Do you have any advice for new authors?
Be persistent. You aren't going to be a best seller overnight, you need to work at it. And enjoy the little things- a 'like' on your page, a genuine interest in your novel, etc. Don't get dragged down by a lack of immediate results.
What is the best advice you have ever heard?
Have a marketing plan. Start marketing your book before it is available, so people are looking forward to it when it comes out. I didn't do that for Tracker, because when I started I had no idea what I was doing, but I did a little for Kindred, and I plan on doing quite a bit for Hunter and any other future books.
What are you reading now?
I am currently reading Insurgent. I just finished reading Divergent. Very interesting story!
What's next for you as a writer?
More writing. And editing. Always. It's important to keep moving forward. Yes, I need to keep working on marketing the first books, but I need to also continue the series and get other projects rolling.
If you were going to be stranded on a desert island and allowed to take 3 or 4 books with you what books would you bring?
The Bible, Madhouse (by Rob Thurman), The Bourne Identity (by Robert Ludlum), and The Hades Factor (by Robert Ludlum).
It is really hard to say for sure. On any given day my choices could be different!
Author Websites and Profiles
Adrianne Lemke Website
Adrianne Lemke Amazon Profile
Adrianne Lemke's Social Media Links
Facebook Profile
Twitter Account