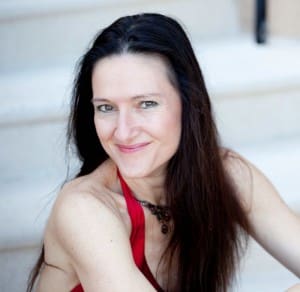 Tell us about yourself and how many books you have written.
I've always loved the combination of romance and suspense. Almost all of my twenty-eight books and five novellas twist both of those elements together, because nothing complements falling in love better than being hunted down, right?
I started my writing career as Tina Wainscott, my real name. Many of my romantic suspenses have a touch of magical realism, but not all. My newest project for Random House is a straight-out romantic suspense series about five Navy SEALs who take the fall for a covert mission gone wrong and join The Justiss Alliance, a private agency that exacts justice outside the law. More at www.tinawainscott.com
As Jaime Rush, I write romantic paranormal suspense, including the Hidden series for Hachette Books (Humans with the essence of gods walk the knife's edge between Miami and a magical world of passion and danger. Part dragon, angel, or sorcerer, they must fight their own kind, demons, and the lure of their darkest nature) and the Offspring series (X-Files meets LOST-ish). More on those at www.jaimerush.com
I've lived in Southwest Florida my whole life, though I do sneak off to the North Carolina mountains whenever I can. I love to kayak, go boating, autocross race, and spend time with family and friends.
What is the name of your latest book and what inspired it?
Losing my nephew, a marine, in the war made me realize that our military people are the perfect heroes. But I didn't want to write military scenes, since I didn't think I could do it accurately. What interested me was how they integrated back to the "real world." And if those guys had been ousted unfairly, that would make it even more interesting. The type of men who would sign up to be SEALs would need purpose, action. To be suddenly dismissed would be difficult. So enter Chase Justiss, who offers them all jobs at his private so-called security firm. I knew I'd enjoy writing how each of these men adjusts to life outside the military and then to finding love when they least expect it.
Do you have any unusual writing habits?
I can't think of anything all that unusual.
What authors, or books have influenced you?
As a kid, books like the Alfred Hitchcock short story collections and VC Andrews's first two series definitely piqued my interest for developing villains and characters in terrible situations.
What are you working on now?
I'm promoting a boxed set that I'm part of (The Dangerous Dozen), editing one of my older books that I want to reissue, will be editing the third book in my Justiss Alliance series, and about to write a novella for an anthology that I'll be part of. Plus I'm thinking of the fourth book in my Justiss series, and playing with other ideas as well.
What is your best method or website when it comes to promoting your books?
I enjoy the interaction of Facebook. I have three pages, two author ones under both my names and then a profile page as both Jaime Rush and Tina Wainscott
Do you have any advice for new authors?
Consider all your options, of which there are many nowadays. Never send out an inferior product.
What is the best advice you have ever heard?
Take what advice feels true for me and throw out the rest.
What are you reading now?
Sonja Gunter's Wanted: Girl I Once Met
What's next for you as a writer?
The second and third books in my Justiss Alliance all come out this year, so I'll be busy with those, as well as writing future books. I love that writing is so open, so many possibilities!
If you were going to be stranded on a desert island and allowed to take 3 or 4 books with you what books would you bring?
I would bring spiritual growth books, written by authors like Carolyn Myss, Wayne Dyer, and Robert Ohotto. While I love fiction, reading the same 3 or 4 books would eventually get boring, no matter how wonderful they are. You know the ending, after all. But we never know our own endings.
Author Websites and Profiles
Tina Wainscott Website
Tina Wainscott Amazon Profile
Tina Wainscott Author Profile on Smashwords
Tina Wainscott's Social Media Links
Goodreads Profile
Facebook Profile
Twitter Account
Pinterest Account