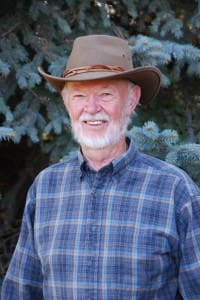 Tell us about yourself and how many books you have written.
My name is G. Eldon Smith and Murder in the Rockies is my debut novel. I've dabbled with children's literature, but only published one short story. My previous writing experience was primarily in writing multiple-choice test questions for hiring and promotions in the Colorado Civil Service Department.
I am a Veteran, Navy photographer; retired Civil Servant, human resources; and married to a loving wife who is my proof reader. My grown son wants to buy the book rather than receive it as a gift…is that loyalty or what?
What is the name of your latest book and what inspired it?
Murder in the Rockies is my latest completed and published book. As I was doing research about Colorado history, I kept coming across articles and photos of events that took place in 1890. It became evident that my novel would have to be set in Denver in the year of 1890. Read an exciting mystery and get a lesson in Colorado history.
Do you have any unusual writing habits?
I can't write without coffee.
What authors, or books have influenced you?
John LaCarre is a favorite because of the suspense he builds. His details let the reader know that LaCarre has really been there.
Mark Twain wrote the funniest sentence I have ever read. In Roughing It, his description of a fight in which he was engaged goes like this. "So I grabbed him firmly between the teeth with my nose and threw him heavily to the ground on top of me." Forty years after I first read it, that passage still makes me chuckle as I type it.
What are you working on now?
I am currently writing a second Andrew Coyle mystery in which Coyle is hired to investigate the Chrystal Carnival held in Leadville Colorado in the winter of 1896. The citizens of Leadville decided to put on the Carnival to attract tourists. The main attraction was a giant Ice Palace, which was a truly remarkable architectural achievement. During the building of the Ice Palace, the head of the county treasury is killed in an accident, or was it murder? Coyle's task is to find out which, and if it was murder, who done it? Leadville is the Two Mile High City, located high in the mountains at 10,400 feet elevation. Thus the title of my latest novel, Two Miles High and Six Feet Under.
What is your best method or website when it comes to promoting your books?
I received three good reviews from a Goodreads giveaway. Three reviews for 10 books has been my best promotion.
My website blog is new every week, but nobody has left a comment in the comments section, so I don't know if anyone ever reads my blog. I find it interesting, but then I write it.
Do you have any advice for new authors?
I am a new author myself. I am more in a position of asking for advice than giving it.
What is the best advice you have ever heard?
Write what you know. That is the reason my fiction is mixed with historical facts, events I know actually happened. I stay away from paranormal subjects that are popular these days. I don't know and have never met a zombie from outer space.
What are you reading now?
Hell on Wheels: Wicked Towns along the Union Pacific Railroad is nonfiction that reads like fiction.
The author, Dick Kreck, put a tremendous amount of research into his book, as he always does.
What's next for you as a writer?
I have spent so much time and effort into marketing Murder in the Rockies, I have not thought much about the future, other than definitely planning to finish Two Miles High and Six Feet Under.
If you were going to be stranded on a desert island and allowed to take 3 or 4 books with you what books would you bring?
I would want Coconut Recipes Book, How to Build a Raft that Floats, and a World Atlas showing popular navigation routes.
Author Websites and Profiles
G. Eldon Smith Website
G. Eldon Smith Amazon Profile
G. Eldon Smith's Social Media Links
Goodreads Profile
Facebook Profile
Twitter Account