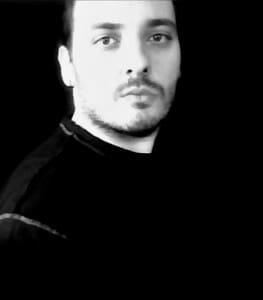 Tell us about yourself and how many books you have written.
My name is Dimitrios Spyridon Chytiris. I was born in Corfu island, Greece in 1982, studied in Vella Academy in the city of Ioannina and returned to Corfu after finishing my military service in the Greek army in 2008. I have always loved reading and writing, usually poetry and some short stories. It was only a month ago that I decided to start publishing some of my work and share it with the world. So far three of my books have been published; all three of them being very different from the other and belonging in different genres. "The Songs of the Gods" is a collection of poems I wrote and I really love. The second book "Exodos" is a translation of the Exodic Acolouthy (Funeral Service) from ancient Greek to English, written in the 7th century by Saint John of Damascus. The latest book is called "Amelia's Adventure" and it's a children's book.
What is the name of your latest book and what inspired it?
The name of my latest book is "Amelia's Adventure". My youngest sister never liked reading books and that for me was very strange since I cannot imagine anyone not liking reading books. All these beautiful stories that one never gets to know and experience and live through the magic of text and paper. I just cannot understand it. So I decided to start writing a short story, something that my sister would surely like, with princesses and knights and magic and dragons, in order to seduce her into reading, bringing her in that marvelous word of books. The short story had a will of its own though and instead of a short story it became a 224 pages book. My sister felt wonderful and loved "Amelia's Adventure", so my inspiration was her lack of interest in books and my desire to show her the beauty of reading.
Do you have any unusual writing habits?
I cannot say I have unusual writing habits but I do want to have my space when writing, being alone in the room is essential and if I am alone in the whole house is even better. I prefer not to write on my desk though, I use a net book or a laptop and either choose to sit on a bed or on the floor.
What authors, or books have influenced you?
I think my poetry is greatly influenced by Arthur Rimbaud, I just love all of his work; the pictures he fills his poems with, the language and originality just fascinate me.
What are you working on now?
There are many stories lurking in my head waiting to take form. Currently I am doing some research about a sci fi story that keeps popping in mind, but first I would like to write a prequel to "Amelia's Adventure" because it seems only natural to me to explain some things that are mentioned in my last book, and writing a prequel will actually make them more solid. And honestly it's a great story that should be told with more details.
What is your best method or website when it comes to promoting your books?
Goodreads is a great website for people who are truly interested in books and reading. People joining Goodreads are not there my chance, they are there because they know what they want, they love books and they want to find more great stories to excite them and travel with them. So there is where I try to promote my work by posting my book links but more importantly by participating in groups and conversations because above all interaction with readers and writers is the most important thing when promoting your work.
Do you have any advice for new authors?
I am a young author myself so I am not sure what wisdom I may have on the matter but I do have one thing to say: Do not be discouraged by anyone, try hard and write because you love writing. I do not think there are many writers that can say they wrote a book and became successful and recognized within a day or two. If I am not mistaken Harry Potter was rejected eleven times before it was published. So do what pleases you and be honest to yourself and love what you do and with a bit more effort success will come.
What is the best advice you have ever heard?
Don't write to impress people, write for you and people will get impressed by you.
What are you reading now?
I am currently reading "Storm of Swords" by George R.R. Martin.
What's next for you as a writer?
Well I am very new to publishing so my goals are not so up there right now. I would like for people to get to know my work and build an audience. That requires a lot of time and effort especially for an independent writer. And of course I want keep on writing more books and stories.
What is your favorite book of all time?
My favorite book of all times is "The Lord of the Rings". I just love Tolkien's world, I think he set the example for all fantasy writers.
Author Websites and Profiles
Dimitrios Spyridon Chytiris Website
Dimitrios Spyridon Chytiris Amazon Profile
Dimitrios Spyridon Chytiris's Social Media Links
Goodreads Profile
Facebook Profile
Twitter Account