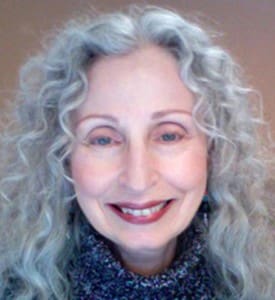 Tell us about yourself and how many books you have written.
I live in Asheville, NC, in the beautiful Blue Ridge mountains. I'm a poet, writer, editor, jewelry designer, and author of three books—A Love Apart, a novel, POSSOONS, a collection of short stories, and my new memoir, Rare Atmosphere.
What is the name of your latest book and what inspired it?
My latest book is a memoir entitled Rare Atmosphere, which recounts a remarkable sojourn I experienced during a six year period of time from December 2005 to January 2012, one in which I came to profound realizations about love—love of another, and especially love of self. My story began when, at fifty-nine, I was told in a conversation with angelic beings I affectionately called The Dead Guys about a man who is involved in the world of classical music, calls Paris his home, and"sings the song of my soul." I was told that a relationship with this man held the potential for the greatest happiness. Yet, I ultimately found a long, circuitous route between potential and reality, with a continually evolving destination, and unimagined detours along the way, including Paris, Provence, and the Caribbean island of Saint Martin.
The writing of this story was an adventure in itself. Although I'd written fiction and poetry, and had composed a few short autobiographical essays, I'd never attempted a book-length accounting of personal events, in this case, an affair of the heart that traversed dimensions.
It wasn't until three years into this amazing journey that I decided to write about it, although I wasn't sure I'd actually publish the story. Just in case, though, I started recording more detailed journal entries, and transcribed dozens of audio-taped conversations I had had with The Dead Guys, the wise and wonderful beings that supported me through the challenge and the triumph. Many of those conversations are included in Rare Atmosphere, along with poetry inspired by my experiences. And, as I wrote, I found I also had to revisit and include an earlier, similar, challenging yet extraordinary inter-dimensional encounter that took place between 1976-1989, an experience I'd previously had no intention of sharing on a page. But there you have it, all laid bare in Rare Atmosphere.
Do you have any unusual writing habits?
I don't think I have any really unusual writing habits. I write mostly at my iMac at home. But I also like to write on my MacBook Air in certain cafés around town. I often find that I get many ideas while driving, and keep a notepad handy at all times. I've been known to pull off the road in order to jot down lines of a poem, or ideas I don't want to forget. And, I admit, that in the thick of what I call "writing frenzy," I almost always feel the overwhelming craving for chocolate, to which I readily give in!
What authors, or books have influenced you?
For my novel, A Love Apart, it was The Letters of Abelard and Heloise that were the inspiration for my contemporary story of Lily and Julian. Reading The Letters had moved me so deeply that I felt I had to find a way to resolve what history had left tragically unresolved. And so I created a story of what might happen if Heloise and Abelard found their way back to each other in this time. Who they might be. What they might remember. What might be left unresolved within and between them. I wanted to create from the tragic, something of peace, beauty, and transcendence.
Although no one book influenced my memoir, Rare Atmosphere, I think of it as having a little of Shirley MacLaine's Out On A Limb, a little of Elizabeth Gilbert's Eat, Pray, Love, a little of Neale Donald Walsh's Conversations with God, and a whole lot of its own unique voice, form, and content.
What are you working on now?
Right now, I've been concentrating on promoting and marketing and have taken a little respite from any new writing.
What is your best method or website when it comes to promoting your books?
In addition to selling my books personally to my clients, friends, independent bookstores, and doing readings and signings, my paperback and Kindle books are sold online, mainly through links to Amazon and other bookstores. I've been experimenting with various methods of online promotion and marketing, including keeping up my website, my blog, my Facebook pages; using KDP's free promotion days; doing paperback book giveaways, and joining many author/reader sites and forums. I also plan to enter several Indie book contests. I'm still in the process of becoming familiar with all that's available online, and frankly at times it's overwhelming.
Do you have any advice for new authors?
My advice to new authors is to write about things you feel passionate about, hone your craft, recognize that there will be ups and down, and, above all, trust and believe in yourself and your work.
What is the best advice you have ever heard?
One of the most helpful and difficult pieces of advice I've ever heard is from William Faulkner, who said, "In writing, you must kill all your darlings." Other wise words are from John Dufresne, who said, "…you have to sit your ass in the chair or nothing gets done."
What are you reading now?
I'm currently re-reading The Great Gatsby.
What's next for you as a writer?
When the time is right, I think my next writing project might be a new novel, or a collection of poetry…or both.
What is your favorite book of all time?
I have many favorite books. And different favorite books at different times in my life. And some more well-known than others. Among them are: Possession by A.S.Byatt, The Elegance of the Hedgehog by Muriel Barbery, The Night Circus by Erin Morgenstern, The Unfastened Heart by Lane von Herzon, The English Patient by Michael Ondaatje, all Louise Penny's Inspector Gamache mysteries…
Author Websites and Profiles
Rachelle Rogers Website
Rachelle Rogers Amazon Profile
Rachelle Rogers's Social Media Links
Goodreads Profile
Facebook Profile