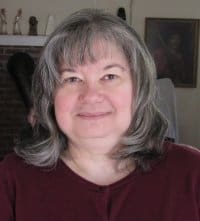 Tell us about yourself and how many books you have written.
I've been writing stories since first grade. In school when the teacher said, "I want you to write a paper," everyone groaned–except me. I was always delighted, as I knew not only was it fun for me, but also a guaranteed A.
For many years, my writing was just for me and a few family members. But eventually, I began submitting my work for publication, and in 1998 my first novel was published.
I have three novels in print: FATAL FORTUNE, a paranormal mystery; SINCE ALL IS PASSING, a romantic suspense; and LADY OF THE TWO LANDS, a time-travel romance. I have a short story collection available, THE MIDNIGHT ZONE. Also have novellas in several collections including ONE TOUCH BEYOND, ENCHANTED HOLIDAYS, HOLIDAY HEARTS, HOLIDAY HEARTS 2, and CUPID'S CAPERS.
What is the name of your latest book and what inspired it?
My latest release is THE MIDNIGHT ZONE, a collection of short stories with creepy twists and turns. The stories come from a childhood of watching ONE STEP BEYOND, THE TWILIGHT ZONE, NIGHT GALLERY, and THE OUTER LIMITS. I particularly enjoyed the stories that seemed safe and normal, until a terrible twist at the end made you change your opinion of everything that had gone on.
Do you have any unusual writing habits?
I tend to have the TV going in the background, creating white noise. I know many writers have music playing while they write, but I've found if I know the music, I sing along; and if I don't know the music, it annoys me.
What authors, or books have influenced you?
My favorite authors include Dean Koontz, Harlan Ellison, Katie MacAlister, Lloyd C. Douglas, Connie Willis, and Terry Pratchett. As you can see, I lean toward beautiful writing and unusual plots. All of their books have had various levels of influence on what I write.
The book that had the most influence on me, though, was "Mara, Daughter of the Nile" by Eloise Jarvis McGraw. I first read it when I was 12, and still reread it every few years to this day. Not only did this book get me interested in writing, it also inspired in me a lifelong love of ancient Egypt. eventually leading to writing my own book set there, "Lady of the Two Lands."
What are you working on now?
I'm working on a sequel to "Fatal Fortune" called "Perilous Prediction." In it, the heroine Lottie Baldwin is accused of killing her ex. Her current boyfriend has to work legally while she uses her psychic powers to prove her innocence, and uncover the person who framed her for the crime.
What is your best method or website when it comes to promoting your books?
You'll find the most complete list of my books on my website, www.elizabethdelisi.com . You can also find my books listed at my publishers' websites:
http://www.tirgearrpublishing.com/authors/Delisi_Elizabeth/index.htm
http://www.amberquill.com/bio_Delisi.html
https://www.ellorascave.com/index.php/authors/index/author/slug/elizabeth-delisi/
In addition, here's my blog and my Facebook page:
http://elizabethdelisi.blogspot.com/
https://www.facebook.com/edelisi
Do you have any advice for new authors?
My best advice is to read widely in the genre(s) in which you want to write. Then, write, write, write! Get a critique partner or group who can critique your work, and you'll critique theirs. Both will help you learn what works and what doesn't. Lastly, never give up. Perseverance is 90% of the battle.
What is the best advice you have ever heard?
Jack London: "You can't wait for inspiration. You have to go after it with a club."
What are you reading now?
"Summersong" by Sheri L. McGathy
What's next for you as a writer?
Keep writing as well as I can, as long as I can.
If you were going to be stranded on a desert island and allowed to take 3 or 4 books with you what books would you bring?
"Mara, Daughter of the Nile" by Eloise Jarvis McGraw
"The Robe" by Lloyd C. Douglas
"Doomsday Book" by Connie Willis
"Watchers" by Dean Koontz
Author Websites and Profiles
Elizabeth Delisi Website
Elizabeth Delisi Amazon Profile
Elizabeth Delisi Author Profile on Smashwords
Elizabeth Delisi's Social Media Links
Goodreads Profile
Facebook Profile
Twitter Account
Pinterest Account