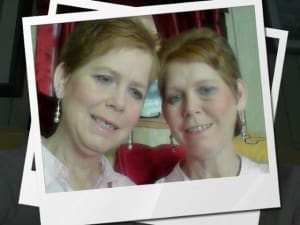 Tell us about yourself and how many books you have written.
Kathy and Karen are twin sisters who live in Harrisville Mississippi with their Mother, and dog Molly. They both work in childcare and have worked with all ages. Growing up they always enjoyed making up stories. Kathy and Karen have written three children's books and one cookbook. They not only enjoy writing, but they have a deep passion for cooking as well. Kathy and Karen would love to own their own food truck. They also would love to write a novel some day as well.
What is the name of your latest book and what inspired it?
Wiggle Worm's Shape Adventure. We were inspired to write this story for our kindergarten class. We are all the time needing stories for our kids at work. We were doing a unit on shapes, and that's how Wiggle Worm's Shape Adventure came about.
Do you have any unusual writing habits?
No, we just believe a writer needs to write everyday, and read, read, and read some more.
What authors, or books have influenced you?
Debbie Macomber, we love her Cedar Cove series.
What are you working on now?
We are working on Wiggle Worm's Colorful Week series.
What is your best method or website when it comes to promoting your books?
Facebook, this site, of course. Tweeting on twitter.
Do you have any advice for new authors?
Not to ever give up on your dream of becoming a published author. It takes lots of time and hard work. Setbacks are just that, keep going and it will happen.
What is the best advice you have ever heard?
To never give up. To write often, and read a lot. We share that advice often.
What are you reading now?
Karen is reading Sisters of Holmes County series, and Kathy is reading Buried, a suspense novel.
What's next for you as a writer?
Just to keep writing, and maybe try out writing a novel together.
If you were going to be stranded on a desert island and allowed to take 3 or 4 books with you what books would you bring?
Good Night Moon
Pokey Little Puppy
Palomino
Any Eternity Springs novel
Author Websites and Profiles
Karen and Kathy Sills Website
Karen and Kathy Sills Amazon Profile
Karen and Kathy Sills's Social Media Links
Facebook Profile