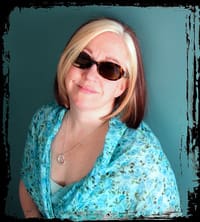 Tell us about yourself and how many books you have written.
I have a BA and MA in Creative Writing and have been writing for a long time. I recently began writing and publishing romances. I currently have four titles out, and am about to release a fifth.
What is the name of your latest book and what inspired it?
Brianna's Bewitching is the first in a contemporary, paranormal series set in Los Angeles. It's inspired by my addiction to Kresley Cole's IAD series and a life-long fascination with paganism and witchcraft.
Do you have any unusual writing habits?
I don't think so. Since writers tend to be an introverted lot, I sort of imagine we all are a bit idiosyncratic, especially when we write.
What authors, or books have influenced you?
With my background in English education and literature, I've been influenced by many of the great stylists of the British and American canons. Within the genre that I am currently writing, I admire many writers, including Kresley Cole, Sabrina Jeffries, Elizabeth Hoyt, Cherry Adair, Cherise Sinclair. I could list dozens and dozens. I read voraciously.
What are you working on now?
The title of the work is The Binding of Adara and it's the second title and first full-length novel in a contemporary paranormal series about a pagan community living under the radar in Los Angeles. Currently, I am promoting the first story in the series, my recently released Brianna's Bewitching.
What is your best method or website when it comes to promoting your books?
I don't know. As a new author, I am still working on building contacts, relationships, enticing in readers. I have spent most of my promotional time soliciting reviews from romance bloggers. I have also done promotional giveaways on Amazon and various blogs.
Do you have any advice for new authors?
Write a lot. Follow the market through websites like RealClearBooks and blogs like The Passive Voice. Stay open to the changing market. I think that making it now means being flexible and being prolific. No one is going to make it on one book. Make sure your work gets a good cover and is well edited. Also, read, read, read. The best writers are readers.
What is the best advice you have ever heard?
Don't stop writing to promote. As soon as one book comes out, start writing the next. Balance promotion into your weekly schedule, but don't stop writing.
What are you reading now?
I just finished a historical romance novel by Tessa Dare, A Knight to Surrender. I usually read three to four books a week. I read for an hour in the morning, I read during lunch, and I read for several hours in the evening.
What's next for you as a writer?
I have about half a dozen unfinished books, so I'd like to finish and publish those. And I have a lot of planned novels for both my Witches and Warlocks series and a Futuristic series.
What is your favorite book of all time?
I don't have a favorite novel of all time–I have a long list. My favorite romances of all time are Jane Austen's Pride and Prejudice and Emily Bronte's Wuthering Heights.
Author Websites and Profiles
Selene Grace Silver Website
Selene Grace Silver Amazon Profile
Selene Grace Silver's Social Media Links
Goodreads Profile
Facebook Profile
Twitter Account